Gondola town / Coconut Creek, Kottayam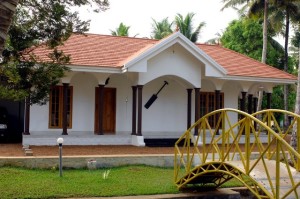 The oar latched on to the show wall is not reminiscent of an era past but pretty much a pointer to all the fun and action awaiting you on the creek – right next door! Okay, fun and action in slo-mo; these are canals that lead to the famed Kumarakom Lake. Here under the masterful strokes of wizened helmsmen, boats meander about as if lost in thought under the overhanging canopy of mangroves and coconut trees; equally or more scenic as a page out of a Venetian diary with its love-charged gondolas.
The much-awarded and diamond category homestay, Coconut Creek in Kumarakom near Kottayam is popular not just among travellers but among the locals too. "To Coconut Creek? Good choice," said the cabbie who dropped me at the property. "Why?" I asked. "Sir you are going there," he replied. Good, I like to be surprised too. Then, you are not exactly caught unawares either for as soon as you enter the property you know you are going to have a good one.
This is traditional Kerala at its comfortable and even modern best. The warm and well-travelled hosts Babu Abraham and wife Regina welcome you personally with a welcome drink of refreshing tender coconut. A quick tour around the homes and you are plagued by thoughts/excuses on how to extend your stay here: the homestay is set in a verdant four-acre farm and has three rooms with one standard suite which opens to the creek that purls about with a quiet ripple (When making your booking, try and get this one with the 'creek view'). Even the breeze seems to be in no hurry to reach anywhere, gently caressing the tree tops that rustle in gratitude. The homestay has its own cooks and other staff who will cater to your every need; the cuisine is essentially Kerala or in case of any specific requirement, just inform in advance. Pets too can be brought with prior notice.
Coconut Creek is a 60-year old property with all the trappings of a heritage house – fish-shaped door knobs, heavy-teak furniture, veranda with a comfortable swing, grandpa clocks, ancient rugs and copper mugs. Nevertheless you can still have a wi-fi connection to catch up with work or the other world or preferably just loll about, finish a book, browse through the library or hop on a boat and explore the Kumarakom Lake. Though Kumarakom is a quaint little town, this is one place you will never run short of discoveries. Like I did – the Bay Island Driftwood Museum, for one.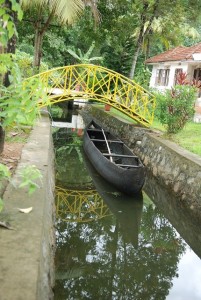 Practical information
Address: Coconut Creek Farm and Homestay, Near Nazareth Church, Kumarakom South P.O., Kottayam
Telephone: +91 481 2524203, +91 9895729278
Website / Contact email: www.coconutcreek.co.in / info@coconutcreek.co.in
Nearest airport / Distance: Kochi International Airport/80km
Tariff: Rs 1,250 to Rs 3,250 depending on season (covers breakfast)
Facilities
Number of rooms: Three rooms including one creek view suite
Air-conditioning / heating: Yes
Hot and cold water: Yes
Food/restaurant/kitchen: There is a kitchenette which the guests share. Usually meals are taken in the common dining area, cooked by the staff but if you need to make your own food – for infants or say, for diabetics – the trained personnel here will happily lend a hand.
Telephone: Yes
Internet: Yes
Swimming pool: There is no swimming pool at Coconut Creek, but plenty of bather-friendly lagoons. Being a rural setting, do dress up conservatively though.
Child friendly: Yes
Credit card payment facility: Yes
Pick up and drop: Pick up and drop to or from the airport, railway station, bus stand or for sightseeing will be arranged on request.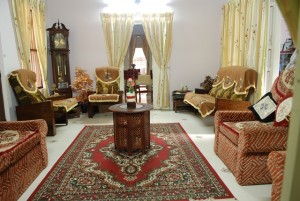 Activities/Places to see/Things to do
1. Being in such close proximity to the backwaters, the top-of-mind activity has to be a houseboat ride. The hosts and staff here excel at designing the best itinerary that takes you through the best of countryside Kerala. In case you want a faster ride, there are motor boats as well speed boats. Yes, for those with the luxury of time, there are also exclusive canoes with or without an oarsman.
2. Ayurvedic massages are arranged on request – a must try in the tranquillity of the homestay and under the expert guidance of an Ayurveda expert who are on call. There is also an Ayurvedic beauty parlour though men are excused here.
3. A walk around the Coconut Creek farm is an activity as well as an eye-opener. Surrounding the homestay is a four-acre farm with all typically Kerala crops like jackfruit, banana, mango, coconut, tapioca, etc.
4. If a rewarding tug at the end of the rod if your thing, then the homestay has plenty of options: you can either sit by one of the lagoons or hire a boat and go out on to the Kumarakom Lake for better prospects.
5. Like any other part of interior Kerala, here too the village life is a slice of peace, instilling calm. A visit to the nearby village not only helps you make new friends but you could also check out some locally made handicrafts and other wares in the market. More shopping in nearby Kottayam town.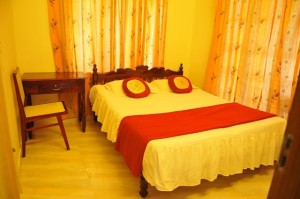 6. Churches and temples that are history-rich architectural marvels or at least renovated gems abound in this area. The Ettumanoor Temple, Thirunakkara Mahadeva Temple, St Alphonsa Church are all just less than an hour-ride away.
7. The Kumarakom Bird Sanctuary is nearby. Carry a pair of binoculars along; the sanctuary is home to rare migratory birds.
8. The Bay Island Museum, Kumarakom: The Bay Islands are the Andaman and Nicobar islands and this museum is a labour of love of retired teacher Mrs Raji Punnoose who was working there. On display in this unique museum – I haven't yet found a second one, at least not in India – are driftwood of high quality and quirky designs. Many of them strangely resemble slices of life, birds and animals. Challenge your creativity by giving alternate names/legends for the collection.
Kindly note 
The page you see here is a prelude to a future website, travellerhome.com; Kerala is the testing (back)waters. It will soon be expanded to cover the whole of India. And probably more, later on. 
All the homestays currently featured in this section were put together over a year ago; some contact numbers or person details may have changed. Do get in touch with me if you (the homestay owner) need any addition/deletion. You (the owner, again) may also contact me if you want your homestay to be featured here, provided certain quality parameters are fulfilled. Make it fast, I'm currently doing it for free. And you (the traveller) may also get in touch me to show me how much you liked this listing. 
Love,
Thommen Jose