Like a flower from a bud / Amrutham, Trivandrum
Real rejuvenation first manifests as an acute happy somnolence. At Amrutham, a host of Ayurvedic massages and therapies by qualified practitioners take care of the first one; the location – surrounded by plush, green forest atop a hill – and aesthetically designed premises as per Vaastu caters to the second.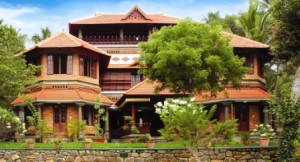 When UK-based Sarah Cohen first met Ajith, she was a student of yoga and Ayurveda and he the teacher who was a renowned practitioner in the little farming village of Panangodu, 10 km from Trivandrum city. "We never even had an idea for a venture like this," Sarah says. But following repeated requests from guests who came for Panchakarma and other therapies, they started Amrutham in 2008. The construction is along traditional Kerala-lines but with creature comforts intact.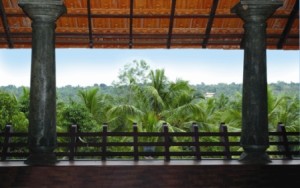 The balconies have carved balustrades that lean out like in ancient Kerala tharavadus overlooking the verdant hillside, there is also a large swimming pool sitting pretty under a canopy of coconut trees. The rooms are well-appointed with attached bathrooms and free Wi-Fi connections. Usha Aunty dishes out mouth-watering Kerala fare from her busy kitchen – the appams or rice hoppers with vegetable stew is a must-try. You can have your food either in the privacy of your room or on the roof-top terrace where buffets are arranged for larger groups. Pets are generally discouraged as many come here for therapy.
The shimmering sea of Kovalam, with its steaming-still air, crystalline-white beaches and beer shacks is just three kilometres from here – in case you are missing the action. But trust us, there is enough happening right here at Amrutham to keep you occupied – rejuvenated and then deliriously slumberous.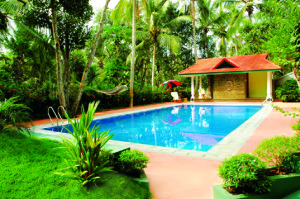 Practical Information
Address: Amrutham, Panangodu Village, Venganoor P.O., Trivandrum District, Kerala
Telephone Number: 00919447856461, 00914712484600
Nearest airport/distance: Trivandrum International Airport/12 km
Website: www.amrutham.in
Tariff: Rs 4,000 per night single occupancy, including yoga classes. Double occupancy is Rs 7,000
Facilities
Number of rooms: 7 double rooms which can be used as single or double as per request
Air-conditioning/heating: Pleasant, well-ventilated rooms; one room has air conditioning
Hot and cold water: Yes
Food/restaurant/kitchen: Room service and rooftop restaurant with buffet during yoga sessions
Telephone: Yes
Internet: Free Wi-Fi
Swimming pool: Large swimming pool with garden
Child friendly: Yes
Pet friendly: Generally discouraged as many come for Ayurvedic treatments and yoga therapies
Credit cards accepted: Yes
Pick up and drop: Will be arranged on request
Things to do/Places to see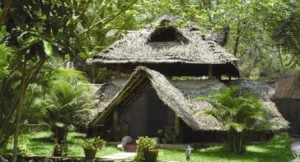 Amrutham is essentially a yoga and Ayurvedic treatment centre with guests opting for treatments that last from one to six weeks; there are three treatment rooms and a steam bath. Rejuvenation therapies are followed by a strongly suggested resting period of anywhere from three days to three weeks depending on the kind of therapies.
However for those who want a slice of Kerala or if you are just restive after rejuvenation and recharging, options are aplenty.
The tropical languor that is Kovalam – also among the busiest beaches of the country – is just a hop (3 km) away. However if you prefer the more tranquil and crystalline seas with sculpted sandy bluffs, we suggest you head to Varkala – an hour by road (60 km) on the National Highway 47.
1. The Vellayani Fresh Water Lake is just a kilometre from here.
2. Houseboat cruises along the famed backwaters of Allepey or Poovar are arranged on request.
3. You can head to Kanyakumari (90 km) and from there by boat to popular Vivekananda Rock – 500 metres from Vavathurai, the country's southern-most tip.
4. Live performances by accomplished traditional musicians, Kathakali recitals (with exclusive access to the elaborate dressing up and preparations) and Kalaripayattu are also held at the property.
5. Panangodu where Amrutham is situated is a rural village with lots of friendly fisher folk; a walk here can be invigorating as well as rewarding from all the new friendships you will strike up.
Kindly note 
The page you see here is a prelude to a future website, travellerhome.com; Kerala is the testing (back)waters. It will soon be expanded to cover the whole of India. And probably more, later on. 
All the homestays currently featured in this section were put together over a year ago; some contact numbers or person details may have changed. Do get in touch with me if you (the homestay owner) need any addition/deletion. You (the owner, again) may also contact me if you want your homestay to be featured here, provided certain quality parameters are fulfilled. Make it fast, I'm currently doing it for free. And you (the traveller) may also get in touch me to show me how much you liked this listing. 
Love,
Thommen Jose