Love lurks in every corner / Varikkat Heritage, Trivandrum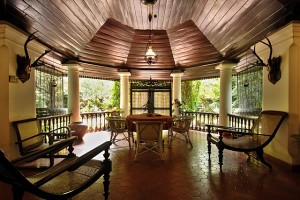 If the stories are anything to go by then this is a hopelessly romantic place; we won't go to the extent of telling you that 'this is the best place to renew your vows' etc but certainly you could renew your love here – there is love in the air, in the history at least. The Varikkat homestay even today glows warmly with the love that laid its foundation a hundred years before Independence. Ms Blanket, a charming and petite Englishwoman fell in love with a dandy Yorkshire lad who took off to India where he was working in the tea estates of Munnar. Realising that days ahead without her lover would be drab, Ms Blanket set sail to India and reached the shores of Trivandrum. Here, a couple of hundred kilometres away from Munnar, she might have realised that she lacked the courage to speak out her heart. So she decided to build a house while she decided on her way forward. As luck would have it, her paramour came to know about her arrival from some of his friends stationed at the cantonment nearby. The smitten man rode the 200 kilometres overnight and reached Ms Blanket with the first rays of the sun. And oh, was it a new day!
More than 150 years have passed since then but even today each day still begins with the same vigour and passion at Varikkat. The single-storied heritage bungalow built along Indo-Saracenic lines – typically high ceilings and tiled roofs to beat the heat – is right next to the busy Mahatma Gandhi Road in the capital city of Trivandrum. The bustling Secretariat is just a skip from the boundary wall as are most of the major attractions of the city. Cocooned in the midst of all the bustle is the homestay, in faraway oasis of its own. Save for an insistent honk, much of the traffic is inaudible from here. It's a verdant sanctuary where bird's trill ecstatically seemingly at the sight of all the lush greenery right in the centre of town.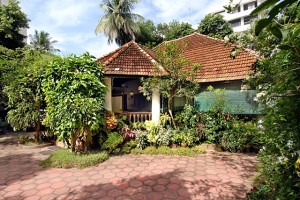 The well-maintained and landscaped garden has a comfortable swing and a hammock should you decide to catch up with some reading early morning or late afternoon. Even watching the rain takes on an ethereal dimension when you sit on the veranda sipping hot chai. Col Roy and his wife Mrs Kuncheria are exceptional hosts who go that extra mile to really indulge you. They do not stick to just Kerala when it comes to their cuisine but pick out the best from neighbouring Tamil Nadu, Karnataka, Andhra Pradesh even Gujarat – a throwback to Roy's days in the Army when he was posted all over India. And if you find any particular food delicious – or just interesting – the in-house chef is actually delighted to reveal the blends of spices as well the locally sourced fresh ingredients that went into it.
No attention to detail has been spared in making the rooms well-appointed with all modern comforts. There are suites and double rooms to choose from. The suites are well spaced out with most of the furniture antique, hand-carved and of rosewood. In case you are looking to work during the course of your stay, the suite would be a good choice as they come with an attached study. Yes, Internet is also available on request. Must be the history – and the happiness that lurks in every corner – you feel hopelessly in love all over again. After all it was here Ms Blanket found her love, again, on that beautiful morning over a century and a half ago.
Practical information
Address: Varikkat, Punnen Road, Near Secretariat, Trivandrum
Telephone: +91 471 2336057, +91 9895239055
Website / Contact email: www.varikattheritage.com, roy@varikatt.com
Nearest airport / Distance: Trivandrum International Airport / 8km
Tariff: Rs 5,000 – Rs 6,000 (breakfast included); Rs 1,000 for extra person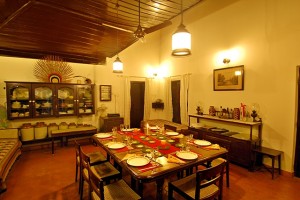 Facilities
Number of rooms: There are three double rooms and one suite, all luxuriously appointed with king size beds, glass shower cubicles and antique furniture and every mod con you will need. The suite exudes a regal charm of its own with kerosene lamps and a deer head gazing down at those passing by.
Air-conditioning / heating: Yes
Hot and cold water: Yes
Food/restaurant/kitchen: Col Roy Kuncheria does a lot of the cooking with his sons and the chef – you can experience the ex-army man's sense of adventure in his kitchen as well. You are in for a sumptuous feast of unique recipes rarely found elsewhere in Kerala. The fare is not limited to Kerala dishes, but from all over the south, north and Continental as well.
Telephone: Yes
Internet: Yes
Swimming pool: No
Child friendly: This is indeed a great place to bring your kids as well. They can laze about in the hammocks or swings, chase butterflies in the garden or maybe pick up a simple card game.
Credit card payment facility: No
Airport pick up and drop: On request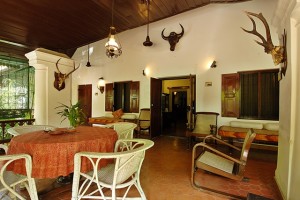 Activities/Places to see/Things to do
Visit the city's famous temples, palaces and zoological gardens.
Being the capital city, there will be some cultural extravaganza on most time of the year. Ask the staff on the happenings and try and watch a Kathakali or Bharatanatyam recital or any classical kacheri or performance by a renowned singer.
The homestay has a badminton court where you have game with any of the family members who are all pretty good players – and improve your own game meantime.
There are several board games or cards to while away the monsoon. You can also pick a book from the library – there are some attractive titles in fiction and children's literature.
Get a masseur over for a rub down on the antique massage table or step into any one of the nearby spas for a proper Ayurveda therapy.
Head to the nearby beach for a spot of fun; East Fort for some shopping. Try out the freshly-made banana chips from the array of stalls here.
Join Col Roy for a cooking session; learn the basics of Keralan cuisine and making some mouth-watering curries.
Kindly note 
The page you see here is a prelude to a future website, travellerhome.com; Kerala is the testing (back)waters. It will soon be expanded to cover the whole of India. And probably more, later on. 
All the homestays currently featured in this section were put together over a year ago; some contact numbers or person details may have changed. Do get in touch with me if you (the homestay owner) need any addition/deletion. You (the owner, again) may also contact me if you want your homestay to be featured here, provided certain quality parameters are fulfilled. Make it fast, I'm currently doing it for free. And you (the traveller) may also get in touch me to show me how much you liked this listing. 
Love,
Thommen Jose