Life, simplified / Olavipe, Kerala
Being right next to the backwaters has its advantages – like free canoeing lessons for one. At the Thekkenat Parayil house on Olavipe island, the cerulean Kaithappuzha backwaters provide the best training ground for all wannabe-Robinson Crusoes – it is still and average a depth of just three feet. Then, till about early 2000s boats were the only way to reach the island which was isolated from mainland geographically and existed in a time zone of its own. Though connected to the mainland today, the time warp still exists, thankfully.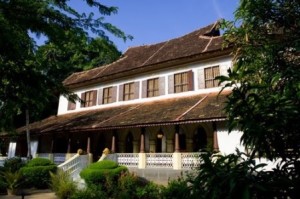 The Thekkenat Parayil house – a sprawling 120-year-old construction with wood and more wood – stands grandiose smack in the centre of a 40-acre farm on the island. The farm which has been held by the family for several centuries grows everything that is Kerala including an organic farm which produces the unpolished brown rice cooked for everybody at the homestay, a fruit farm which supplies the relishing dessert platters and the fish farm for the catch of the day. Since most of the stuff used in the kitchen is grown in the Parayil farm itself, do not expect a fixed menu; it is rather informally discussed over meals. This is just one of the ways you are made to feel that you 'belong' – and not somebody passing through worried about wi-fi connections and airport drops.
Yes, just like the construction and the ambience of the place, the prevalent mood is also one of familiarity. You are made to feel like one of the family: Rema will take you through the well-stocked library at the same time gleaning out interesting titbits from her vast knowledge base and takes on the art and cinema while Anthony holds fort over current issues mostly over breakfast and dinner. The farmhands are genuinely happy to show you around the farm and if it's in season, they will even open a 'karikku' or tender coconut to quench your thirst. Of course there is more at Olavipe to quench your thirst like Anthony's delightful collection of liquor which you are invited to sip and sample. Conversations get increasingly animated around the huge dining table – where everyone including all the guests and the hosts come together for meals – as dusk approaches. And with such well-read and travelled hosts, there can be no end to debates or friendly arguments over well, just about anything. You learn some and you learn to lose some.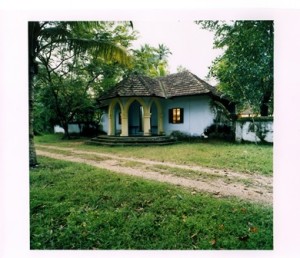 Practical information
Address: Thekkenat Parayil, Olavipe Village, Poochakkal
Telephone number: +91 478 2522255, 9447142410
Nearest airport / Distance: Kochi International Airport/55km
Website / Contact email: www.olavipe.com, homestay@olavipe.com
Tariff: Rs 10,000 for a room, all included
Facilities
Number of rooms: Six with four rooms rented out usually; two are used only in case of larger touring groups.
Hot and cold water: Is provided on request; the water is always at a pleasant temperature.
Food/restaurant/kitchen: Most of the ingredients used in the kitchen come from the homestay's private farm on the island itself. Organically grown brown rice and a delightful assortment of fruits are the prime attractions. There is also a fish pond from which fresh fish is caught and curried or fried as per your taste. Continental breakfast is also provided on request.
Telephone: Yes
Internet: Free wi-fi
Swimming pool: Surrounded by so many lagoons you won't really miss a swimming pool. Swimming in the Kaithappuzha backwaters is safe as it is shallow.
Child friendly: Yes but parents have to keep an eye out for kids as there are many water bodies sprinkled all over the property. Sometimes new ones crop up after an overnight rain.
Payment: In cash or bank transfer/draft.
Pick up and drop: Arranged on request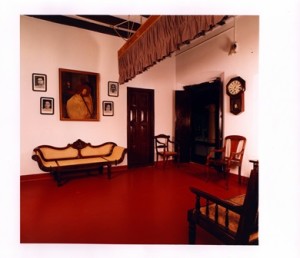 Activities/Places to see/Things to do
Canoeing on the calm lagoon is one of the highlights of staying at Olavipe.
If you are visiting with children, they will be delighted to be introduced to the cows and calves at the farm. There is also a sand pit where they can gambol about.
Once you have enough practice, we suggest you go solo on a canoe – after all there is nothing so pleasantly introspective as whup-whupping about on your own.
Laze about checking out the boat jetties of the houses adjoining the shorelines. There are also many fisher folk in their own canoes splaying their nets over the still-calm of the Kaithappuzha. Watch the fluid movement of the cast and give company as they wait for the catch.
You can look up local ware at the rural market two kilometres away for hand woven floor mats and carpets. Remember Kerala is the centre for coir products and coconut shell handicraft.
Kochi is just 30km away from Olavipe and the hosts will arrange a cab in case you need to go there for sightseeing or shopping.
Kindly note 
The page you see here is a prelude to a future website, travellerhome.com; Kerala is the testing (back)waters. It will soon be expanded to cover the whole of India. And probably more, later on. 
All the homestays currently featured in this section were put together over a year ago; some contact numbers or person details may have changed. Do get in touch with me if you (the homestay owner) need any addition/deletion. You (the owner, again) may also contact me if you want your homestay to be featured here, provided certain quality parameters are fulfilled. Make it fast, I'm currently doing it for free. And you (the traveller) may also get in touch me to show me how much you liked this listing. 
Love,
Thommen Jose