The house by the side of the road / Walton's, Fort Kochi
'Let me live in a house by the side of the road and be a friend to man.' These words by poet Sam Walter Foss not just inspired but define Christopher Walton, the owner of Walton's Homestay in Fort Kochi. By extension, it goes for his homestay as well – Walton's is right by the side of the busy and boisterous Princess Street but once inside, it is indeed an oasis of serenity and of course, literature. A garden with a flowing fountain has been anointed paradise by chirpy birds which flutter in for a much-needed drink on a humid afternoon and linger on for a longer swig or just a closer look at you.
Walton's, managed by Christopher's wife Ambika and daughters Charlotte and Christina, is a centuries-old Dutch building on the oldest street in the history-laden Fort Kochi. Though a lawyer by qualification, Christopher was a manager with a shipping company; his love for travel and travellers can be traced to his days in the industry. "Today though I do not travel much, I enjoy meeting travellers and like to advise them on their journey forward," Christopher says about the raison d'être of the homestay. "Of course, it's a sustaining option as well," more practically.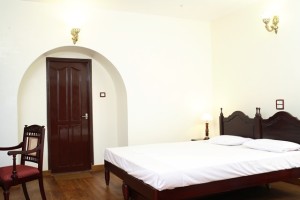 The homestay is just a few minutes away from all things 'Fort Kochi': the Chinese fishing nets, St Francis Church, Santa Cruz Basilica, the Jew quarter and the Synagogue, the Dutch Palace and the Spice Market. Being a widely respected local historian Christopher fills up you with the history, forgotten facts as well as the present status of these sights – adding to your experience. Ambika and the girls personally take care of the housekeeping and breakfast – which is almost always Continental (the Waltons cater to a largely European clientele). Besides taking care of you like you were part of the family, there is another thing which the Waltons revel – and excel – in. It's sharing their common love for books; a second-hand bookstore functions in the homestay from where you can pick up rare books on the state's history and culture – which might help you hold an intelligent conversation with Christopher.
Probably the experiential inundation that awaits you right outside the door the rooms are devoid of any frill – done up sparsely, almost Spartan. There are a total of six double rooms – three on the ground and three on the first floor – all of which are air conditioned. In addition to the bookstore, there is also a library, a television room and internet connection provided on request. One thoughtful thrust towards sustainability and environment are solar-powered water heaters for every room.
With all the thought and attention – and of course, love – bestowed on you, the Waltons have very rightfully earned their preferred title of the 'innkeepers' – in a modern world.
Practical information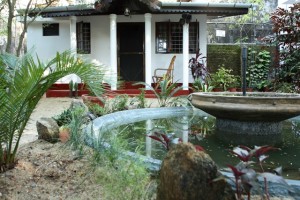 Address: 1/369, Walton Hall, Princess Street, Fort Kochi
Telephone: +91 484 2215309, +91 9249721935
Website / Contact email: www.waltonshomestay.com, mail@waltonshomestay.com
Nearest airport / Distance: Kochi International Airport/50km
Tariff: All rooms come with the option to use air conditioning and hence the charges vary accordingly. There are standard rooms (rates starting at Rs 1,600), deluxe rooms (Rs 2,000), en suite rooms (Rs 2,600) and the garden cottage (Rs 3,000); usage of air conditioning will be an additional Rs 400.
Facilities
Number of rooms: Six rooms – three on the ground floor and three on the first. Save for the view from the top, all rooms are quiet and open towards the garden.
Air-conditioning / heating: Yes
Hot and cold water: Yes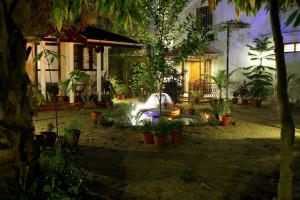 Food/restaurant/kitchen: Christopher's wife Ambika and daughters Charlotte and Christina take care of the food which is predominantly Continental. However if you want to experiment a bit with variety, the Walton's is just a hop and skip away from all the eateries. For fresh seafood, head to the Fort Kochi beach and chose your squid, lobster, crab or prawn live from the display buckets and ask the staff to cook it as per your taste. Do tell them specifically to go easy on the spice.
Telephone: Yes
Internet: Yes
Swimming pool: No
Child friendly: Yes, but the serene and serious atmosphere may not be exactly what your kid is looking for.
Credit card payment facility: No
Airport pick up and drop: Pick up and drops are arranged on request
Activities/Places to see/Things to do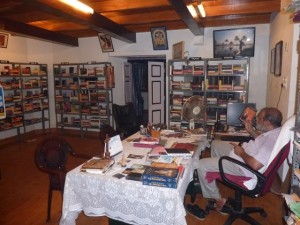 1. Walton's is on the oldest backstreet in Fort Kochi, the Princess Street. Besides the colonial style buildings with their peeling pastel, stucco walls and hanging plants on almost every window, there is nothing much to see here. Officially do nothing at the Loafer's Corner.
2. Though with the Dutch conquest of Fort Kochi in 1663 most of the places of worship were turned into warehouses, the Santa Cruz Basilica was spared because – it is widely believed – of the sheer beauty of its stained glass, the life-like caryatids that keep an eye over the confessional boxes and surely the soaring spires. A must-visit for anybody visiting Kerala.
3. The St Francis Church at the northern end built by the Portuguese in 1503 was first built in timber and then overlaid with stone masonry. The Doop Book or the old baptism and marriage registry from 1751 to 1804 kept in the vestry is a delight for history buffs. You will be permitted to inspect a photo copy of the same.
4. A visit to the Pardesi Synagogue: There used to be seven synagogues in Fort Kochi at one time, now there is only the 400-year-old Pardesi Synagogue. Recommended for its brass columns, carved teak ark, Belgian chandeliers made of crystal, hand-painted porcelain tiles – each of a different design.
5. The cantilever operated Chinese fishing nets, Mattancherry Palace, Spice Market and the Dutch Cemetery are all within walking distance from here. In fact the whole of Fort Kochi can be covered in just two days of leisurely walk.
Kindly note 
The page you see here is a prelude to a future website, travellerhome.com; Kerala is the testing (back)waters. It will soon be expanded to cover the whole of India. And probably more, later on. 
All the homestays currently featured in this section were put together over a year ago; some contact numbers or person details may have changed. Do get in touch with me if you (the homestay owner) need any addition/deletion. You (the owner, again) may also contact me if you want your homestay to be featured here, provided certain quality parameters are fulfilled. Make it fast, I'm currently doing it for free. And you (the traveller) may also get in touch me to show me how much you liked this listing. 
Love,
Thommen Jose