The sloth appeal / Serenity, Kanam Estate, Vazhoor
The best way to take in hinterland views is a ride with Puli and Chathampuli who are in no hurry unlike a cabbie or an auto rickshaw driver. In fact, to get them started after a break is a task in itself – they would be chewing absentmindedly, lost in some faraway thoughts. Yes, Puli and Chathampuli are bullocks who cart you around the little agrarian village of Vazhoor and chart a plangent path through the narrow meandering bunds bordering the weedy paddy fields. Then, even if you decide not to venture out – the temptations are plenty to stay put – you are still introduced to these two gentle creatures who actually wink at you through eyes moist with happiness.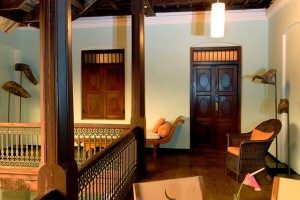 At the Serenity at Kanam Estate venturing out has its rewards. That is not to say staying indoors doesn't come with its own perks either – like being happy not doing anything, to begin with. If you happen to be in Kerala during the monsoon months – usually from June till August, although in recent years it has been starting as early as March – watching the grey slanting downpour over the coffee and rubber plantations from the period balconies is quite an atmospheric experience. Once you have your fill of the lulling pitter-patter, and in case you haven't dozed off yet again, open that book. Better still, head towards the dining area where the cooks would have whipped up some authentic Kerala fare for you. The monsoon months are known to work up gargantuan appetites even in the resolutely lethargic.
You pass by living rooms that are brightly coloured but tastefully done up with artefacts collected from all over the state and the country. There are even some priceless handpicked art and furniture from the owners' – Serenity is a part of the Malabar Escapes group – trips abroad. After some gobsmacking dishes including classics like 'meen pollichathu' (a spicy fish preparation, shallow-fried) and appams (hoppers) plonk yourself on one of the easy chairs for more rain-watching. If you feel like a much-needed walk, the property will arrange a rural tour – you are introduced to the various intricacies of rubber-making enterprise, nutmeg collection and pineapple or tapioca cultivation. The infinity pool is handy to work up a bigger appetite for later.
At the Serenity celebration of sloth begins right at the entrance itself. Built in the 1920s by PV Varughese, who is regarded among the pioneer rubber planters of the state, there used to be a Ford imported from the USA right in the front porch which is now replaced by the livelier bullock cart. Puli and Chathampuli will be just a jangle and a moo away.
Practical information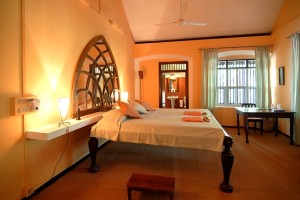 Address: Payikad, Kanam P.O., Vazhoor
Telephone number: +91 481 2456353
Nearest airport / Distance: Kochi International Airport/100km
Website / Contact email: www.malabarhouse.com, reservations@malabarhouse.com
Tariff: Rs 9,000, including breakfast
Facilities
Number of rooms: Five rooms; two air-conditioned
Air-conditioning/heating: Yes
Hot and cold water: Yes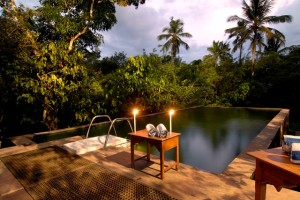 Food/restaurant/kitchen: There is an in-house chef who makes a decent work of all the classic Kerala foods. In case you are scared of a Delhi belly, ask him to go easy on the spices. You can also have your choice of Continental and other global cuisine as well, which might not augur well with the mood though.
Telephone: Yes
Internet: Provided on request but patchy. Go for it only if it's an absolute must.
Swimming pool: There is an infinity pool here.
Child friendly: Yes
Payment: Through the parent group Malabar Escapes, online facilities available.
Pick up and drop: Arranged on request
Activities/Places to see/Things to do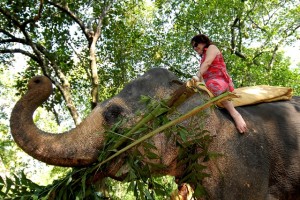 1. While at the Serenity, focus on weighing yourself down on that easy chair: a wonderful selection of Kerala snacks are available throughout the day like crispy fried prawns served with a side chutney of mint and banana chips.
2. Chef Rineesh holds cooking demonstrations for the guests or if you fancy an exclusive session with him, it can also be arranged.
3. Plantation walk: Find out for yourself how Kerala breathes and lives rubber. From tapping to collection, lactase extruded into sheets which are then smoke-dried into golden red and brown sheets.
4. Of course, the bullock cart ride with Puli and Chathampuli at the helm; don't worry, there is a driver too. You will not fail to raise a smile or a friendly hello from the folk around as you are tugged around in the cart.
5. Spend time with Lakshmi the pet elephant – a must-have for the millionaires of Kerala. You can ride her for as long as you want (though this one is priced a bit steep at Rs 7,000/-)
6. There is a pool nearby carved out of rock; swim to your heart's content here. (This one too is charged.)
7. Karimpinkala – the legendary eat-out for Kottayamers and those from nearby areas – is near here. Head out for some of the finest local fare and flavour.
8. Kumarakom backwaters with its many houseboat cruises and toddy (local liquor from coconut or palm trees) shops are also just short ride away.
Kindly note 
The page you see here is a prelude to a future website, travellerhome.com; Kerala is the testing (back)waters. It will soon be expanded to cover the whole of India. And probably more, later on. 
All the homestays currently featured in this section were put together over a year ago; some contact numbers or person details may have changed. Do get in touch with me if you (the homestay owner) need any addition/deletion. You (the owner, again) may also contact me if you want your homestay to be featured here, provided certain quality parameters are fulfilled. Make it fast, I'm currently doing it for free. And you (the traveller) may also get in touch me to show me how much you liked this listing. 
Love,
Thommen Jose