Straight to the heart / Azheekan's Homestay, Alappuzha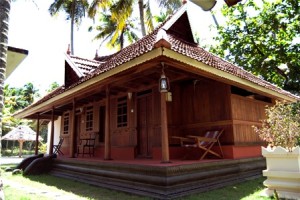 Babu Azheekan is the patriarch of the homestay, a celebrity chef whose culinary skills are a featured series in a local television channel. Now if I tell you staying at Azheekan's is a gastronomic adventure, it will be redundant, right? Not really considering that most of the meals at the homestay is made by Girly; well, she is the granny of the family, always smiling and insisting you help yourself to more of the duck roast or the simple but yummy vegetable stew. Now, Babu – or Girly, for that matter – is not the only reason you will remember Azheekan's.
Previous guests at the place had dubbed it the 'secret beach' which made me almost expect something as similar to paradise as the one in De Caprio's 'The Beach.' Save for the dope/romp happy cult, the seclusion and the tranquillity are pretty much intact at the Chethy Beach, a brisk 10-minute walk from the homestay property. This is a long, curving stretch of white sand that extends for quite a distance and is divided by a rocky causeway which juts out into the sea. Though the stretch is quite aloof compared to a Kovalam or Varkala, it is frequented by fishermen early in the morning seemingly for their ablutions. Do not get carried away by all the quiet, be on your guard here though.
Azheekan's is a small and close-knit homestay which do not cater to numbers – they'd rather focus on quality and experience. There are only two rooms here – one air-conditioned and the other non – which points to the family's insistence on taking care of you personally. To help you max out on your stay here, the hosts will even organise an Ayurvedic massage – a vigorous one that renders your limbs languid and you in a peaceful torpor only to wake up rejuvenated like you've never known. Time for another walk to the Chethy Beach – now, the Secret Beach for you too. Along the way you pass by the villagers many of whom you are now familiar to address on a first name basis.
Sunset over and you are heading home. Girly welcomes you back and almost immediately asks you to pick your dinner from Kerala beef ularthiyathu (made with coconut pieces, in coconut oil), koonthal fry (squid, spliced into small circles), meen pollichathu (fish in coconut curry), ghee rice, duck roast…you get the drift.
Tweaking a bit, shall we say the 'easiest way to a traveller's heart is through his stomach'?
Practical information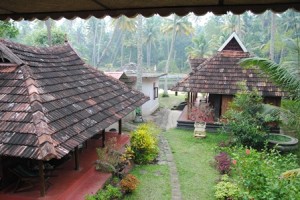 Address: Azheekan's, Chethy P.O., Cherthala, Alappuzha
Telephone number: +91 9447474381
Nearest airport / Distance: Kochi International Airport/90km
Website / Contact email: www.azheekanshomestay.com, azheekanshomestay@yahoo.com
Tariff: Rs 2,000 for air-conditioned and Rs 1,500 for non-air conditioned (breakfast inclusive)
Facilities
Number of rooms: Two rooms; one AC, one non-AC. There are telephones and Internet facility in rooms.
Food/restaurant/kitchen: The owner/patriarch of the homestay is Babu Azheekan who is a celebrity chef in Kerala; even had a local television channel featuring his recipes. The fare typically includes vegetarian and non-vegetarian meals. If you need any special type of food or need to try something exotically Keralan, do inform the hosts in advance.
Swimming pool: Go swimming by the Chethy Beach, be careful as there aren't any lifeguards around in case of an emergency. Then, this is the charm of the beach – it is not known to many tourists. (Remember, 'Secret Beach.')
Child friendly: The owners have kids of their own – so your kids will have good company. And you some quality time.
Payment: You can pay at the property directly.
Pick up and drop: Arranged on request
Activities/Places to see/Things to do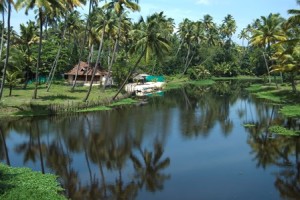 At Azheekan's you are expected to be devoured by a carnivorous lethargy. In case you aren't you should head out to the nearby Chethy Beach, just 10 minutes away. This is one quiet, secluded spot and you can swim to your heart's content – only if you are a good swimmer.
Babu Azheekan runs a busy kitchen – both for you as well as for himself and his brood. Nevertheless he wouldn't mind opening it up for you if you would like to pick up some authentic Kerala recipes. Or any of his featured ones that made him a household name in the state.
In case he has more time on his hands, he will invite you to a round of the village where he will just scoop up a plant from the soil and tell you about its prowess: Babu is quite knowledgeable on the curative powers of the plants that grow in and around the area.
There are several households nearby who earn their livelihood by making and vending coir products. See how the gifted artisans make them by hand. Buy from them if you see something you like – it goes a long way.
A ride on Mohan – the friendly local tusker – can be arranged on request.
For the religiously inclined or if you are just an architecture of history buff, we suggest a visit to the St Andrew's Basilica at nearby Arthunkal – a 17th century lime and stone and granite church which attracts pilgrims from all over India.
Some of the best toddy – coconut or palm brew – are available in these areas. So take time out for a visit to a toddy shop and while at it, do try out some of their delicacies too like frog and quail fry.
It seems like everybody out here will love you. Return it – with smiles and handshakes.