Finding Amrita

And how I nearly missed the big mama in my own backyard
Amrita Shergill. Marg.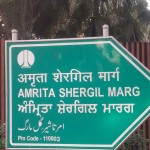 The name meant just a marg – another road. The only lure – the reason I took a detour from the Lodhi Road – was the once-a-year festival of Christmassy meats on sale and display by the sunny Goa Sadan on this otherwise leafy avenue. After my visit to the National Gallery of Modern Art – my first-ever after nearly seven years in the capital – I walked through the marg, the mind a churn-pot of new-found knowledge, intrigue and fascination.
Been to all the galleries, exhibitions and art openings; I was familiar with the names raising a brow or breaking a ripple; I wrack a fume figuring a better name for a work (for painters work with brushes, not pens); listen intently to the creators' discourses on why a pensive stroke there or a missed meaning here – and emerged brighter. Then, one visit to the big mama of the art galleries – the National Gallery, in short – and I would have answered your calls to 'booby'.
Here I came across names that are today relegated to mere reference points in art studies or high points at Christie's: FN Souza (for the coarse and at best crude sketch, I found his Seated Woman hugely titillating and enormously erotic), MF Pithawala (a master of portraits – Portrait of Freeman, Mrs William and Malan), Abanindranath Tagore (you should see his Omar Khayyam of Kalimpong), European traveller artists like John Zoffany, William Hodges, Thomas Daniel and my personal favourite, Tilly Kettle (Figures – never seen gold look so good on anybody!). I learnt little known facets of old masters: Raja Ravi Varma travelled the length and breadth of India looking for commissions; belonging to the royal family of Travancore, his leaving the status and wealth he was born into struck me as a modern day tale of a Buddha-like in quest of artistic Nirvana. The big mama showed me that there was more to Ravi Varma than the Hansa Damayanti and Mohini on a Swing; the Sita in Exile was mythology come alive in mortal flesh and blood, with next-door settings, probably closing the god-man divide. Girl Holding Hookah and Broom is a delight – in context and conflict. Here a young woman, obviously a maid, seems to be stealing a smoke – I say 'steal' as her eyes are uncannily alert. The fair skin, the tiger rug beneath her feet, are stuff that sets off a thousand tales. One day with big mama is barely enough for even the lemonade and cookies. 'Amrita Shergill Marg' reminded a signboard, pointing towards greatness and story one way, callous frailty of human memory the other. She was a study in contrasts, of extremes, a dichotomy. An elite – born of a Sikh aristocrat and a Hungarian opera singer – she painted rural people with empathy, bringing their strength and dignity to the fore like few others have – before or after. She was a stunner to the point of narcissism and sexual ambivalence. No regrets here: 'I will enjoy my beauty because it is given for a short time and joy is such a short-lived thing,' in her own words. When she was not drawing landscapes and life around – like the seminal trilogy from South India – Brahmacharis, The South Indian Villagers and Bride's Toilet – she drew from models, many nude studies. A short candle – she lived just one year older than 27 – her body of work is massive and the NGMA is a treasure trove with over 100 of them right from her career-defining 'The Three Girls'. She was 10 years old when her mother met an Italian sculptor in Shimla and moved to Italy with him. Though she began her studies at an art school in Florence, she returned to India within a year. Five years later, she set sail to Europe and enrolled at the prestigious Ecole des Beaux-Arts in Paris. In the widly eclectic and vastly Bohemian art circles of 30s Paris, a young and dashing Amrita took many lovers, and drawing inspiration from her teachers and masters notably Gaugin, built a commendable corpus of works. In fact, Gaugin raises an eager head in her flattened treatment of The Three Girls which is also her first work upon return to India in 1935. The painting won her the gold medal from the Bombay Art Society. "While in Europe, I was haunted by an intense longing to return to India," she said later about her return. "I have felt that here lay my destiny as a painter." With the accolade bestowed on her by the influential Art Society, she was well on her way. She stayed at her family home in Shimla where she had a brief fling with the glamorous British journalist, author, soldier, spy, Malcolm Muggeridge. True to her restive spirit, she was back on the road – this time travelling far down south – and discovering her true artistic roots. The southern trilogy brings out Amrita's deep empathy for rural subjects which had hitherto been depicted mostly in squalor and tepid conditions. During that time she wrote to a friend, "Europe belongs to Picasso, Matisse and Braque while India belongs only to me." The southern sojourn brought out the earthiness, colours and textures which have become definitive of her work. She painted the vibrant scenes from everyday with a raw passion, giving them each a sensuous edge. There seems to be a hungry eye following her subjects' every move – while Village Scene is set on life outside the hutments, the canvas goes inside with Siesta and Woman on Charpai. In 1938 she married her Hungarian first cousin Dr Victor Egan, who her mother was to blame for her death three years later. A few days before she was to open a major exhibition, she slipped into a coma and died on December 6, 1941. Her death has been variously attributed to peritonitis following an abortion gone wrong and domestic violence. Personal setbacks or professional challenges never came in the way of her artistic accomplishment. Like a true artist, she derived her biggest inspirations from life around her as well the one that was her own, sucking out even fire from dying embers. Amrita travelled the country with her works. Though hailed among the greatest of her time, the Nawab Salar Jung of Hyderabad returned her works and the Maharaja of Mysore chose Raja Ravi Varma's works over her's. Nevertheless, her Two Elephants and the Haldi Grinders painted in 1940 have been considered to be harbingers of Indian modernism. Big mama loves Amrita most; the biggest room in the house was given to this sprightly, spunky girl who lived life on her own terms. Besides the historic Company paintings – commissioned by the East India Company, there were the works of photography pioneer Deen Dayal, a portraint of Akbar's European wife and the priceless one of Kunwar Singh who was active in the Sepoy Mutiny. A petite, young Indira Gandhi stole my breath looking out of a Mukul Dey shot. I learnt that Calcutta's Kalighat paintings were also used to lampoon the hypocrisies of the noveau-riche. Satyajit Ray's film Inner Eye was based on the life of artist Binod Bihari Mukherjee who went blind at the peak of his career still continued working on paintings and murals. The use of tempera on silk adds to the romance in Indira Dugad's In Eager Expectation. And of course the pure pleasure for a puritan – MF Hussain's early works like Family Horse, Cyclonic Silence and Horse.
I had reached the end of Amrita Shergill Marg.
It's actually Sher-Gil.
(The birth centenary of Amrita Sher-Gil is being celebrated at the NGMA from January this year. Passing by Delhi? This is your best chance to know India's own Frida Kahlo.)