The winner stakes it all
Won a travel contest? Hold your bags, it is too early yet.
It had been over a year since I went out of the state. So you can imagine my heart – faster than Chev Chelios' on a full charge – when I received the following email from the marketing department of a leading travel magazine.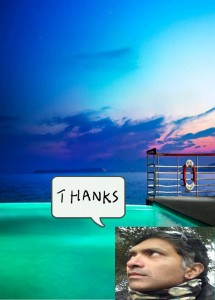 Dear Mr. Jose,
Greetings from Magazine Name, India!
This refers to my conversation with you on Thursday, 18th October with regards to the subject contest.
We received huge response from our readers across India and a big thanks for taking interest in the same and your valued patronage towards (again) Magazine Name. We are glad to inform you that you have been chosen as the lucky winner. Congratulations!
Below are the details of what you are entitled to:
A 2 Nights / 3Days complimentary stay for a couple in a double/twin room at the Swanky Star Property Name, Goa.
Stay Package is excluding the period from 22 December 2012 – 5 January 2013. Prior room reservation is mandatory.
…..

(More bulleted points on how any form of excesses would be directly billable to me, the definitive importance of producing the attached voucher at the time of checking in, followed by another bout of congratulations and an enthusiastic sign off.)
The same period I was homebound my wife had been to to Sri Lanka. And Italy. And it was not exactly all work. Which made it all the more difficult countering her Eurail stories with my Metro ones.
Nevertheless, I gushed out the following reply: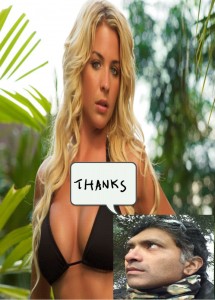 Dear Name-of-the-person-whose-face-I-imagined-to-be-like-Carla-Bruni's-but-with-wings,
I am really excited to hear the news. (A gross understatement – I suffered a near-seizure from excitement.)
I was really hoping I would top it; the tips were actual, real time stuff from my own travels. I would like to claim the prize – not pass it over (Here, I have to admit Carla-Bruni-with-wings tried a bit unnervingly over the phone, repeatedly emphasising that should I decide to pass the opportunity I was to inform her well in advance).
The dates I would like to have blocked are: Dec 19, 20 and 21 (yes, following your instructions, I will be returning before your Dec 22 deadline). I will be travelling with my wife; I will need to book flight tickets in advance.
…. (Lots more gushing and heart-rendingly joyous signing off.)
You don't have to be married to imagine the scene at my home that evening.
Me: How much did your Italy trip cost?
Wife: Why? Are you going to reimburse?
Me: No, now I am going to Goa – not spending a single rupee.
Wife: Many people do that – our architect is sent there every year by the ceramic company he forced us to buy from…
Me: You can come too if you want.
Wife: And why not? I have always wanted to go to Goa ever since Amalfi…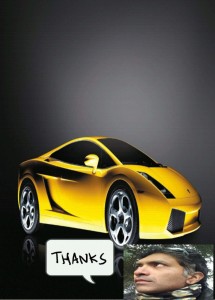 Before I extended the 'couple' part of the victory to the wife, before I played the babu-frigging-righteous-moshai, I should have waited for the mail a few days later. Carla-with-wings had put me to the Swanky Star Property's marketing division in Delhi – who in turn instructed me to get in touch with the reservation manager in Goa directly which I duly did. Though I wondered since when did a cog in the wheel was expected to make the whole darned wheel? The reply went thus:
Dear Sir,
Greetings of the day!! (You can see it coming, do you? I did not – happiness blinded me.)
We regret to inform you that we are unable to confirm the booking as dates requested are sold out.
Thanks and regards,
Doesn't-matter-who-as-long-as-you-are-screwed
I decided not to give up without a fight and not because one of the requested dates – December 20 – happened to be my wedding anniversary. The same evening I got the above reply, I called up the property in Goa passing for a customer.
Me: Hi, I am calling from Delhi and I would like to make a reservation for December 19, 20 and 21.
Carla-Bruni-in-bikini: Sure sir, single or double?
Me: But you sure you have rooms available?
Carla-Bruni-in-bikini: Yes sir, we have six double and deluxe suites…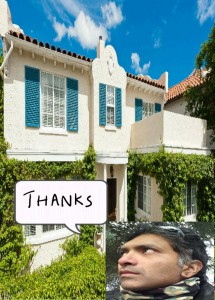 My mind began to reel, really. Suddenly into my Carla Bruni routine, Sarkozy walked in. Or was it the burly neighbour Berlo? Whoever, my heart was going Bunga-Bunga, which I poured out over mail the next day to the original Carla.
Hi,
Won't it be better if the property tells me to weave around my holidays around which dates – as per their marketing logic and convenience? You see, a lot actually goes into charting out dates; scuttling them becomes so much a problem of messy logistics as well as heartburn. So, better they let me know when the bummer season sets in, will notify you then.
The reply was sent from a BlackBerry(R) via Airtel:
Thommen, u mAy cAll d hotel. N Chk dates which r available
When somebody sends you an official reply through a mobile phone, you have pushed it far enough. When somebody sends you an official reply that is cryptic, she is telling you that you are pushing it. When somebody sends you a message that doesn't give two hoots to spelling or grammar, she is actually telling you she doesn't give you two hoots. So, go figure!
Tales of Italy continued through Christmas and Amalfi was declared the better beach than Goa – I did not even meekly protest. Thankfully by New Year, we had begun planning the next trip.
Wife: So, will you be coming this year?
Me (eagerly): Where to? What are the plans?
Wife: What do you say to…Goa?
Fast forward to a few days before Easter. In the meantime I had given both magazine and the property three different sets of dates which were all shot down citing the same set of reasons. And I bought their 'packed' reason/season – the same way I will buy it if you tell me our cricket team really wants to see Poonam Pandey naked. This is especially so when newspapers report that hospitality industry suffered huge blows with rapists having a free run in the capital and women tourists are jumping off hotel windows to escape molestation bids by hotel managers. The sector also witnessed a manifold increase in additional rooms which forced undercutting by all and sundry.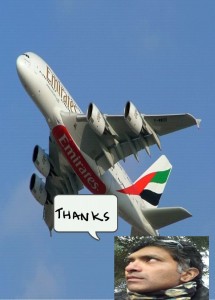 Once summer sets in April, nobody goes to Goa save the advertising folk for Goafest. Then nobody ever doubted the lot's sanity either. Finally with just a week or so before the voucher expiry – and Easter – on March 31, I gave them my final days: March 29, 30 and 31.
Me: Do you fancy a Goan Easter dear?
Wife: No.
Me: See, the church of St Francis Xavier…
Wife: I gotta speak to your mother.
This time I didn't really complain: Being a Roman Catholic, I was traditionally required to burst a belly on beef and get piss-through-the-ears-drunk after the 40 day Lent which I did observe this time.
"You have to bring back beautiful photographs of the property and send them to me with a write up on how wonderful your stay was there." It was Carla Bruni from the magazine; I had shredded her of her wings after her BlackBerry (R) message.
"Count on it." Even I could see the nasty glint in my own eyes.
I still haven't responded to this mail from the property manager in Goa to the Delhi office which was forwarded to me by Carla-minus-the-wings.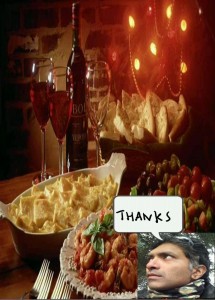 Dear Sir,
Please note below booking of Mr. Thommen Jose against the complimentary voucher issued went No-show yesterday. Infact we were overbooked yesterday and today; that is the reason I had given call two days before to the guest directly and enquired for his arrival and guest said yes he is 100% coming to the hotel but he didnt turnup yesterday and today also and no message has been received from anyone to cancel his booking.
Will a 'Happy Easter' be good enough?
(All the email transcripts in the article are copy-paste of the actual correspondence between me and a dozen others who came in at one point or another – and all for what! Isn't it about time the high and mighty magazines and hoteliers opened their eyes to the rising relevance of social media and duly recognised blogger power? Or anybody who is on Facebook or tweets, who stumbles or pins – I mean, everybody!)