The Battutah bath
As a little boy, there were so many things I knew I had to have the instant I set my eyes on it. The faculty remained intact as I grew up – just that the number of things that I wanted went up. As did the nature of the things – they either got more expensive or risky. Mostly, both. The yearning to bathe in the stream that gushed fresh lilacs by the roadside was one of those – risky as the road was narrow (I was in Kerala) and expensive going by what could have befallen me – thankfully the buses that plied the route just steamed past in typical tropical hurry.
When you are visiting a place you used to regularly decamp to, with a girlfriend or with a bunch of buddies with budget debaucheries, after several years lets loose a coiled spring of memories and emotions that had begun to rust. Wagamon was just 30 km from my hometown Pala; rolling hills with plenty of nooks and crannies for hooky, it was now earmarked for a major tourism revamp. On any rainy day, the roads leading in and out of this overgrown hamlet would be like a necklace beaded together with tiny pearls of waterfalls.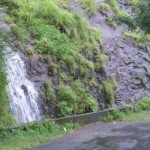 During one of my recent stays at home, after just having finished a tome by Ibn Battutah, I set out to Wagamon by foot. Well, inspired was too less a word; I was living the traveller. When I saw the falls, I did what he would have done – lived the little joys of nature. I felt something loosen up inside me that made me come alive.