McBath in the Himalayan Foothills
The gushing water frills and forks its way through precipitous ravines as far as the eyes can see. On the other side, the sleepy town of McLeod Ganj unfurls with its typical Buddhist serenity halfway to the horizon. In between these two are a bunch of rocks that are holding me from sliding towards the Bhagsunath Falls.
Dharamshala in Himachal Pradesh had become crowded even during the days of the British; McLeod Ganj was established as a respite. The Namgyal Monastery here is where you can pick up the essentials of Buddhism or just plain meditate. I was doing a little bit of both. Right next door was the Tsuglag Khang or more simply the Dalai Lama's residence complex, radiating strength to the more ardent ones. On a hot Sunday afternoon, I decided to trace the origin of the Bhagsunath Falls, a tourist hotspot just three kilometres from McLeod Ganj town square. Of course, I knew that it was meltwater that gushed down all the way from the Himalayas; but nothing wrong in being ambitious.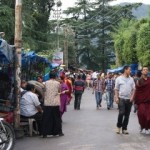 From the Bhagsunath Falls, I clambered up a mountain goat-path. Sad discards of potato wafer packets and water bottles were signs that many had traversed the first three or four kilometres. But after a few hours, it was only me and not even the cut path. Dusk was falling fast and I didn't even have a flashlight. I decided to turn back towards the chant-and-cymbal comforts of the Namgyal, after a bath. The Himalayas – where I set out to, originally – grinned at me through the scattered grey blanket of billowy clouds. Though I was nowhere near them, I was content. I felt alive.