Awesome is azure
You have not seen azure till you have been to Pigeon Island in Sri Lanka. This deepwater harbour a kilometre away from the Nilaveli Beach in Trincomalee, spreads out azure in its many astounding blue avatars – some you have never seen, like 'gunpowder blue'. Okay, I invented that one but throw in a bit of sulphur grey to powder blue and lo!
'A small universe with as many variations of colour, scenery and climate as some countries a dozen times its size,' said Arthur C. Clarke about Sri Lanka. The celebrated futurist and author of '2001: A Space Odyssey' should know for the island was his home. And I was soon to second him after my road trip – more beach bumming that tripping – that started from Colombo and traced a semi circle through Galle, Yaala, Batticaloa, Trincomalee and back. After the mandatory doses of myth and history at Trinco – applies to anywhere in Sri Lanka, for that matter – my regular head was screaming for some less top-heavy stuff. Off to Nilaveli Beach and from there on to the Pigeon Island on a little dhow which Peter made me think I was rowing. This place was used by the British for shooting practice during the Second World War but now hundreds of rock pigeons come to roost here, hence the name.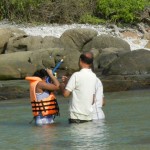 The azure blue of the water is so inviting that just donning a dive mask is a huge tax on your patience. But once you are over the side, the coral-embroidered water world shimmers like ethereal masterpieces. The finned and other slithery citizens peer at you unblinking for a few moments – all it takes for them to get used to you. Meantime, I was getting addicted to the azure that surrounded me. And boy! Was it awesome!!
Photographs by Raushni Abraham, www.facebook.com/PointBlankPhotography