Aram Bagh to Ram Bagh: A Mughal legacy, a Maratha conspiracy and an efflorescent extravaganza
My heart, like the bud of the red, red rose
Lies fold within fold, aflame;
Would the breath of even a myriad springs
Blow my heart's bud to a rose?
Babur, the great conquistador from Kyrgyzstan, descendant of Timur and Chenghiz Khan, founder of the Mughal dynasty in the subcontinent, actually wrote these lines. Not only does his memoir Tuzuk-e-Baburi contain repeated references to flowers and gardens but the Emperor even had the names of all his daughters prefixed with 'gul' – Persian for rose – Gulrang Begum, Gulizar Begum, Gulbadan Begum… This love also led him to build Aram Bagh, the 'garden of leisure,' in Agra, by the banks of Yamuna. But there was more to Aram Bagh than a love for roses.
The great adventurer and military commander spent a lifetime in harness. Riding around 2,400 km – as the crow flies – he reached India, vanquished the Lodis in Panipat, ransacked Delhi and reached Agra. Even after setting up empire, there were frequent animosities and rebellions from within to quell. Night after night was spent under the starlit sky, a cool breeze gently caressing the scars of battle, next to the calming lull of a gurgling stream. Eventually Babur developed an aversion to rooms and enclosures – one reason he did not build any magnificent palaces like his descendants. The weather was also a source of gripe as he noted in his memoirs: Three things oppressed us in Hindustan – its heat, its strong winds and dust. The Aram Bagh was built by Babur in 1528, recreating where he loved to be the most – the great outdoors replete with gardens, fruit-laden trees and fragrant flowers.
The 'char bagh' or 'four gardens' is the basis of all Mughal garden design – formed from two intersecting walkways. At Aram Bagh, there are many sets of char baghs set across three descending terraces. A series of giant water wheels were used to draw water from the Yamuna which was poured into a network of canals, cascades and tanks in each of the descending levels of the garden. Each cascade had stairs on both sides and flowed into a pond. In addition to the fountains and cascades, stairways and pools, there were also large, raised platforms of red sandstone, wide walkways, tree avenues, flower parterres and chattris – all capturing the essence of the Persian 'pairidaeza' (yes, 'paradise' in English). There even used to be a delightful subterranean hamam or bath place 'In the heat, it's so chilly that one is almost cold,' recorded Babur about the hamam. But this is closed to public now.
"You have to get permission." A garden attendant informed me when I asked him why it was locked.
"Where do I get permission from?"
"From the Archaeological Survey of India." There was a triumphant note of conviction of such a thing never going to happen.
"Why?"
"Many dead bodies were found there." Now he made it sound like Dr Lecter's lab.
"But why close it to the living ones?"
"You have to go to ASI." He said as if sentencing me to community service. And returned to fondly tracing a ginger finger over the sharp edge of his sickle that gleamed against the afternoon sun; couple of hours later as I was heading out I found him examining the tip. Maybe it was good he didn't open the underground hamam for me. But some of the loveliest views of the river used to be from here.
The Yamuna in those days was at her prettiest and busiest best. She was deep and placid; laden barges could float all the way down to Bengal. Verdant swathes of jungle serenaded her, chitals and sambars trotted by for a thimble. Regal women and other nobility bathed in the ghats, children frolicked in the water, robust lads raced the boats, victorious armies returned from lands afar proudly flaunting their battle-winning matchlocks at the fore. As per royal decree, diyas were to adorn every boat passing through during Diwali. The resplendence of those days has become a fuscous sludge today. Effluents and excrement find its way into the holy river, untreated. This is besides holding up to gargantuan follies like the Heritage Corridor – thankfully nipped in early bloom – which required raising the riverbed by 12 feet. Upstream dams have depleted water levels considerably and the river is on its way to extinction. Makes one wonder what will become of the city that came up because of the river. But Aram Bagh seemed to be the wrong place to get all worked up.
That sultry afternoon there were many taking the 'aram' bit seriously. Six lads slept soundly on a platform while a live cricket commentary blared from one mobile phone radio and old Hindi movie songs from another.  Under a pavilion overlooking a fountain stood some students from a hospitality institute nearby. They shot each other questions; after passing the written test, these were the ones chosen to appear for an interview that evening.
"Sir, can you be the interviewer?" An eager young lady asked me.
Happy to oblige I go, "Does Agra deserve the Taj?"
"Out of syllabus." My second indictment of the day.
Not just out of syllabus, but I am sure that none of these kids were even born in 1976 – when Sanjay Gandhi, with his trademark vigorous political will, launched the clean-up Agra drive. Thirty six years later, those demolished illegal encroachments are back lugging with it kindred issues like entangled lanes, traffic snarls, inadequate sewers, mounting garbage, frequent power cuts and more illegal encroachments. But these kids had their lives to look forward to; I was the one looking back. I left wishing them luck.
The Aram Bagh was just the biggest; the Mughals had made the whole area – from Aram Bagh to Chini Ka Roza (the tomb of Shah Jahan's chief minister, scholar and poet, Allama Afzal Khan) along the Yamuna – into one big garden. The whole area now is occupied by workshops and car and AC mechanics. Lathe and welding works, grocery and garment shops, vegetable vendors and of course petha outlets have taken up whatever is left. But the gardens aren't rooted out completely. At least not yet. Behind these retail and industrial floor spaces, there are narrow strips of land which go all the way to the river. In these fertile slopes, there are families of malis or gardeners who run fairly successful nurseries. Agra enjoys a reputation for high quality indoor and outdoor plants.
Babur himself is credited with three more gardens all of which have gone untraceable in the melee of development. But surely the Aram Bagh was his favourite – as it was with the rest down his line. Babur's son Humayun sought for another kind of pairidaeza within this one in opium-induced quests. It is believed that Akbar planted the first pineapples in Aram Bagh. His son Jahangir and queen Nur Jahan spent numerous evenings pottering around, planting new varieties of lilies and roses, jasmine and dahlias. So did Jahangir's son Shah Jahan and Mumtaz.
Personally laid out by the Mughal Babur, tended to by generations of Mughal rulers after him, I found the name by which Aram Bagh is known today a bit unsettling – Ram Bagh. Asking for directions to Aram Bagh, I was led to Ram Bagh.
"But I want to go to Aram Bagh." I told the guy at the ticket counter.
"This is the Aram Bagh." He replied peering amusedly over his spectacles.
"But the board says Ram Bagh." I showed him the photograph I had just taken in case he hadn't noticed.
"After the decline of the Mughal dynasty, the Marathas came to power. They hated the Mughals so much that they began calling Aram Bagh, Ram Bagh." He summed it all up for me, nice and succinct.
On my way out, I met the ticket collector again.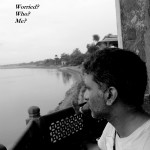 "Whatever be the Marathas' peeve, this garden is distinctly Mughal. 'Ram Bagh' just doesn't sit with it." I proclaimed through the wire mesh, the other side of which he sat, peering at me over his spectacles – this time impatiently.
"Well, that's what you think." Pat came the third – and hopefully last – one damning me that day.