The Red Taj and More of Less-Seen Agra
First blank then incredulous stares are flung my way when I ask a local the way to Taj Mahal.
'In a city that grew around the Taj, you don't know the way?' They seem to ask.
Awkward tinged in condescension raises a nodding head when the 'dummy out of town' realisation sinks in.
Ask a local for the 'Red Taj' ('Lal Taj' if any better) and you'd still get the same blank, incredulous 'get outta here' stare. Not surprising, considering many of my intrepid travel buddies too hadn't – forget seen – even heard of it. Lucky for me, the 100th guy I asked had heard of it. He actually knew where it was even. What if he was on a bicycle! And I was to follow him in my car!! He pedalled at least a couple of kilometres as fast as he could and we reached a huge locked wooden gate. There was a miniscule entrance through which I had to contort myself into a spaghetti to enter; I half expected Wonderland on the other side. Well, it turned out close. It was indeed the elusive Red Taj. I hugged my still-panting cyclist, offered some money for his troubles which he promptly pocketed; so happy he was he even offered to conduct a guided tour of the premises. I nicely declined. I would take time; he was okay with it. I might even sleep on the lawn a bit; he was confused.
Anyway he left soon enough.
The Red Taj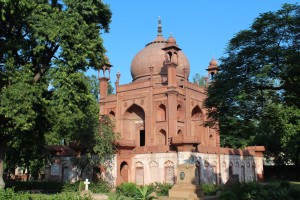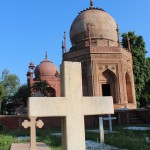 The story is as strange as the monument. John William Hessing was a mercenary who was first employed by the Dutch East India Company. After Ceylon – present day Sri Lanka – which he was defending fell into the hands of the British, he was employed by the Nizam of Hyderabad and then by the Marathas who rewarded his exemplary services by giving him command of the Agra Fort. He died in battle defending the Fort against the British in 1803. The Red Taj was built by his estranged wife Ann Hessing as his final resting place. The tomb is essentially Mughal in design, erected on a square platform with a corridor around it and topped by the typical dome. Adding a quirky touch to the design are the chhatris – dome-shaped pavilions to depict pride and honour – that surround the structure. Now why would any wife – that too an estranged one – build a Taj replica for a dead husband, that too in red sandstone beats me. Many guidebooks refer to the Roman Catholic Cemetery as a must-see but not very clear on how to reach. Well, it's here, right around the Red Taj!
Mariam's Tomb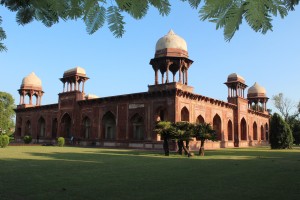 Lest I be pulled up for being misinformed – as I was when I told a good friend and travel writer about this – I am doing a verbatim reproduction of what the Archaeological Survey of India has to say about this: Mariam Zamani was the daughter of Raja Bharmal Kachhwaha of Amer (Jaipur) and was married to Akbar in 1562 A.D. She gave birth to Salim (Jahangir) in 1569 at Fatehpur Sikri, when the title 'Mariam Zamani' (Compassionate to the world) was conferred upon her by Akbar. She died in Agra in 1623 and this tomb was built by her son Jahangir between 1623 and 1627 AD. Now, let me tell you that if you ask the locals (again) for Mariam's tomb you will get nothing. This is a little ahead of Sikandra towards Delhi, on your left.
Nalbandh Chauraha: Meat-eaters' paradise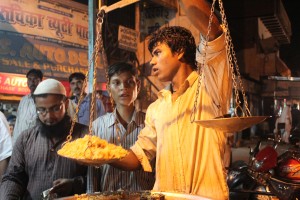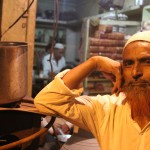 If you are in Agra just for the Taj Mahal, chances are you won't be venturing far from the tidily-kept Fatehabad Road. It's just a straight road with the Taj at one end and the rest of them on the other, well mostly. But you are not going to get lost in Fatehabad Road because I didn't. Now the problem with this touristy stretch of Agra is that, it is well, touristy. With the touristy kind of prices. And if you are going to hang around for some days, it hits where it hurts most – the stomach. Some students I befriended from Kerala asked me if I knew any affordable joints. I pointed out Udupi but they meant meat. Taking up cudgels for my meat-eating brothers (so I like to think, but the efforts were mostly for myself) I began asking around. My theory was simple: If Hyderabad and Delhi had fabulous meaty haunts where they served great fare at greater fares, Agra should too. Probably just had to focus my quest closer to the old city-side. And look what I discovered! Biriyani by weight, with succulent lamb or chicken, dum pukht-ed in its own fatty, meaty flavours. The best is right at the beginning itself – Haji's. Kebabs are out to vie for your affection in large charcoal-grilled numbers. The hanging tandoori chicken will hook you, shiny and seductive under those old time bulb lights. Two beers, half kilogram of biriyani, one shirmal roti (doughy, pockmarked, very filling), a platter of tandoori chicken knocked  me out. Knock yourself out, by all means, but Nalbandha is a slum cluster and many drunks frequent the area. Not a recommended area for a women's night out.
St Paul's Church, Church Road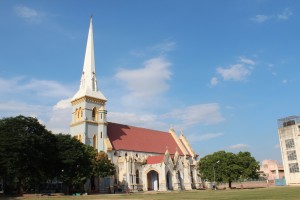 The historic St Paul's Church was built in 1855 and was at one time the main church in the area. The church, built in English Gothic style, was constructed on the site of a former Dutch factory. I loved it for its unending spire. Don't expect any quiet here as right next door is the St Paul's college.
The Soul Sentry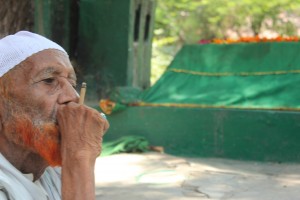 This is a little confusing, actually quite confusing. I saw this old man outside Red Fort, manning a decorated tomb. I asked him whose it was and he said 'Hazrat Kamar Ali Darvesh.' A spot of Googling that evening told me that the great Sufi pir or saint was buried in a proper dargah. Not only that, but the dargah was in Pune. I went back the next day just to make sure I heard the name right, I had. Whatever, I like this picture.
And the fact that somebody was guarding a tomb – all alone.
On a Friday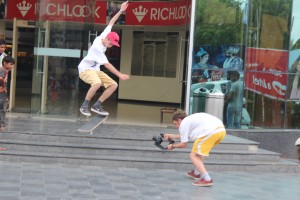 The Taj is closed on Fridays. Which means the tourists do everything else except the Taj.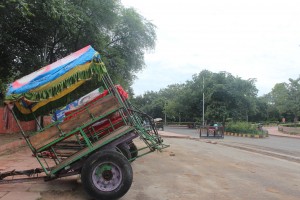 And the camels leave their posts maybe to visit family?
Wonder from the air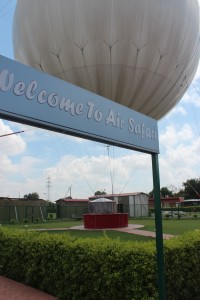 Cameras and mobile phones weren't allowed on this one. So even if I did, I'd forget. Or maybe I did…
Wax, wane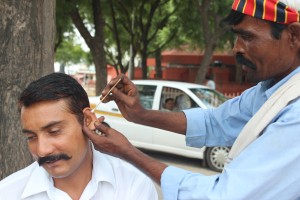 This chap was doing brisk business in the car park as many drivers were getting their ears cleaned waiting for their passengers to return from the Taj Mahal. How come still there was no respite to the honking?
It's not like I saw all of the less-seen Agra. My queries for 'Akbar's church' were met with blank gazes, belligerent snorts even. Like I asked for pork in Kabul, or the Pope's harem.
I know it's there. And I will find it next time.
(As always, please there's no need to get in touch with me to use any of the photographs – yes, they are my copyrights, still. Do use whatever, great if you could give credit to Wanderink.com. Not asking much, I guess..))