Fog wheel drive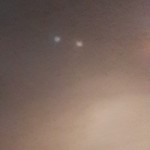 The highway became the set for a 'Dream Girl' song: save the noble-hearted, shiny-tessellated Hema Malini, vigorous gusts of translucent fog guffawed from many hidden directions enveloping my windscreen. What was earlier the billowy contour of a truck segued into a muddle of a silhouette; taillights snarled like the Joker's lips. Vast swathes of cerulean fields that meandered open on both sides till the horizon were suddenly draped in curtains of shifting grey. I veered dangerously close to the divider and my tyres scraped the zebra-striped concrete; as if on cue rose a bunch of emergency numbers on a blurred-green signboard. I stopped and took a picture. The numbers could come handy in case of any eventuality – mine or anybody else's. Especially anybody else's.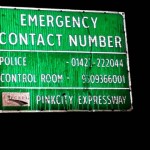 If my mom didn't have her way I'd have been a cabbie alright, I mean I love driving. And I have done quite a bit of it all over the country – waded through floodwaters in Bihar, wallowed across knee-deep snow in Ladakh, slid across the dunes of Jaisalmer, scurried through landslide debris in Uttarakhand, jostled with cycle rickshaws through the alleyways of Vrindavan, prayed for no oncoming traffic along the single-file steeps of hinterland Himachal…  But this was a new one: driving without seeing. Maybe I should have stayed put at Chokhi Dhani; then not really an option as I was 'requested' to leave the village-theme resort some two hours back.
"Motu banake bhej doonga." (Will fatten you before sending you back.)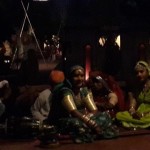 The last one who took a similar oath was my grandmother. It was many years ago, I was a lanky lad with a wispy moustache, bulbous eyes framed within shell spectacles who'd just landed from Nigeria on annual holiday. Aluva Ammachi – she's no more – stuffed me with all the delectable marvels typical of Kerala Syrian Catholic cuisine: Basically starting with one meat and ending with another meat and with different kinds of meat in between. At the Chokhi Dhani it was a vegetarian offensive – dal baati churma, pappad sabzi, missi roti, kair sangri (a wiry shrub originally grown to feed goats now held in great stock all over Rajasthan. Still tastes cuddy.) and 37 other green and yellow items. The natty, chatty servers brought the third helping of pure desi ghee to deposit on the paneer ghewar, one of the half dozen desserts. I coyly objected; I had succumbed to the love twice already.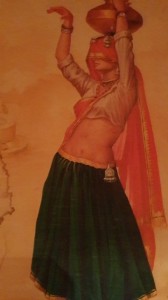 Motu banake… Nobody could resist such overwhelming love! (This lively compelling to eat more is part of a Rajasthani tradition called 'manuhar' which means 'mouthful catering'.) Certainly I couldn't – even though what lay ahead was a 270km journey to Delhi, alone. After two (maybe three or four) neat whiskey shots from a thoughtfully placed bar within the premises – 'to digest all the ghee' I convinced myself – I became a happy flaneur of this Rajasthan-in-a-nutshell. The tacky tourism photographs that jarred around the bioscope seemed to be mellifluously synced with the grating music. The foul smelling camel on which I rode around the fairground just seemed to be returning the favour. A group of rotund locals – those who must have made eating there a habit – were shaking everything else other than their legs but looked like accomplished moonwalkers. The sprightly dhols and soulful sarangis and the evocative sataras – a few I could identify – sounded a little jaded; the artists a tad resigned. I self-endowed the onus to spruce things up and ludically joined the fat fray. A flurry of bemused doe-eyes behind sequinned headgear, silent promises, dark shadows strewn about by crackling bonfires, scraping mud walls; the only thing I remember was the general anxiety because closing time – 11pm – was long past. I had fallen in love with Rajasthan, even if it meant eating kair sangri; I even told somebody that I was staying back. Probably run the bioscope.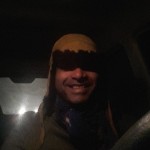 The fog continued unrelenting for many kilometres and I seemed to be the only one on the road. A dhaba came up and many trucks were parked in front of it. While the drivers were sleeping in their cabins, the chotus (literally 'little ones' essentially scullions and wannabe drivers) were bunched around a small colour television. They were watching Chiranjeevi mouthing such heroic stuff that despite being ill-dubbed into Hindi managed to enrapture. From a distance I heard the anthem of all droopy-lidded beedi-swingers.
Nayak nahi, khalnaayak hoon mein (I am not a hero, but the villain)
A 14-wheel Leyland barrelled in silently like the Black Pearl.
Zulmi bada dukhdaayak hoon mein (I have only sorrow to give)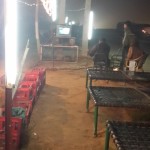 The monster was typical 'national permit' material: lavishly embellished cabin with hanging decorations and curtains, tassels that warded off evil eyes flung from the rear view mirrors, motifs of virility and patriotism, slogans promoting responsible sexual behaviour and names of all in the family and reminders to use dipper at night and blow horn were all arranged next to each other like the contents from a dotard's hobby box. A rainbow detritus.
A trill from the tape deck followed by silence.
All of us watching television looked up expectantly, Chiranjeevi temporarily forgotten, as the cabin door opened. A lungi-version of Jack Sparrow emerged, head first. He perched on the ledge, swaying and surveyed everything around him for a full minute before clambering down. He was joined by his chotu who was dispatched officiously, almost unceremoniously, to check something probably a leakage beneath the chassis. Sparrow came and sat on a charpoy next to me and produced a half-finished bottle of cheap rum from the ganji he wore inside a denim shirt. He was my man.
"You are drinking and driving?" I hoped I looked duly worried.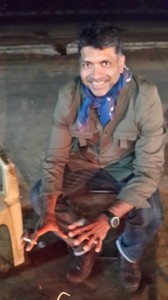 Sparrow shrugged. He'd been driving non-stop for 20 hours. It was the music that kept him going. "The volume," he said, "is what keeps us awake." On the upside it also doubled as a horn, I pointed out in jest. He solemnly agreed that it actually did. I left a little later to Sparrow sprawled across the charpoy, chotu with the rest of his ilk amazing at Chiranjeevi becoming a tiger or vice versa. Back on the road the foggy hammering went on and sleep began to cloud my mind. I invented some fantastic games (fantastic then, stupid now) to keep me awake: tailgating trucks and closing in as much as possible till the juggernaut axle was within spitting distance, letting go of the wheel and swerving just before clambering over the kerb, overtaking with lights switched off and imagining the cabin crew's fright when whooshing past.
I will meet you at midnight, under the moonlight… Smokie promised in my favourite whiskey-cigarette song.
A gradual rumble from somewhere grew into a cacophonous clamour of Nagina-themed honking and asphyxiated industrial grunts. A hail of lights descended on me like from a helicopter chase party. Before I had time to move to the slow lane, an ominous amoebic apparition on adrenaline thundered past. The ensuing gust rendered Red afloat for a full couple of seconds. Over the numbing drone of the Leyland engine, the heavy swish of rubber on tarmac, I heard the ending notes of the beedi-swingers' anthem fading into the faraway night.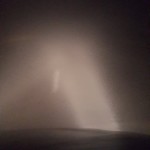 Khalnayak… Khalnayak… Khalnayak…
This time I didn't tailgate but stopped Red outside what looked like a gas station and went to sleep. By early morning the fog had disappeared and I was woken up by incessant but petite tootles from a family in a sedan. I was parked outside a highway hotel and was blocking the only access.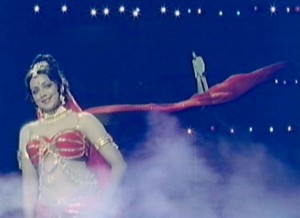 What you should really be doing when 'Dream Girl' descends on the highway:
Drive with lights on low beam; high beams will only get reflected off the fog and impair your vision even more.
Use painted road markings or the right edge of the road as your vision guide.
Switch off that music and crack the window some: you need to hear traffic that you cannot see.
Reduce speed, like watch the speedo and reduce, for during fog driving a visual illusion is created by which it appears like you are going slow while you actually could be speeding.
Do not try any of the games mentioned here; they may keep you awake but not necessarily alive.