Telling Tales: Koul, the Kashmiri Pandit in Kathmandu
This is the first in an occasional series 'Telling Tales' which are stories of people from my different journeys.
On a coarse sheet of paper Koul drew some lines and circles.
"Here," he said pointing to the lines, "are electric posts with wires."
"And these," he said tapping the hurriedly-drawn circles, "are birds. They are sitting on the wire."
Koul then put a bold mark across one of the circles / birds.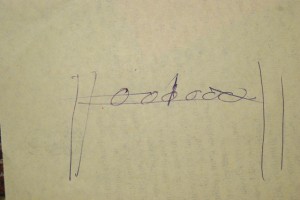 "If somebody shot one of these birds," he asked looking me right in my eye, "can you expect the rest of the birds to remain on the wire?" Koul was one of the thousands of Pandits who fled from Kashmir following the mass murder which was nothing less than a modern day ethnic purging of these upper caste Hindus in the Valley.
Sauntering around the tourist den of Thamel in Kathmandu on the last night before my return to Delhi, I walked into his thangka art gallery. An affable man in his late 50s, Koul refused to talk about his experiences in front the camera. Instead, he said, he would share his experiences with me for my travel blog.
"I have come across your blog," he told me. "It is very impressive."
"Oh, thank you," I was trying hard to conceal a gush. It was very fulfilling to know that the fruits of your labour are recognised in foreign lands.
"Wander link, right?" He asked. I didn't know whether to sob or scream – this was not the first time.
"Wander ink," I told him meekly.
"Yes, yes, the same thing." It was settled.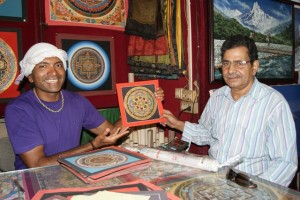 In Thamel, almost every third shop deals in thangka paintings – it is what most of the tourists take back with them as a part of Nepal. Seeing me looking about, Koul had charmed me into his shop with a disarming 'Looking is free' promise. Soon over cups of tea he was drawing the electric poles and the birds to illustrate his flight from the Valley during the 90s – heartrending one as he was forced to leave overnight, leaving behind most of his immediate family. But he considers himself lucky to have got himself out alive – unlike tens of thousands across the Valley who met with gory ends.
Resources abound with horrifying tales of many other Kouls, Mujoos and Saprus, Bhats, Ganjoos and Tickoos. The women were invariably gangraped over several days before their bodies were disfigured or dismembered in the most grotesque manner possible. Salman Khurshid in his book 'Beyond Terrorism: New Hope for Kashmir' narrates one grim episode: 'Girija Tickoo of Bandipora worked as a laboratory assistant at the Girls' High School in Trehgam, Kupwara. She was abducted in June 1990, gangraped for several days and then shred into pieces on a bar and saw mill.'
As Koul recollects with a shudder: "The frenzy was such that it was just not enough to kill us, but they had to make us suffer before we died."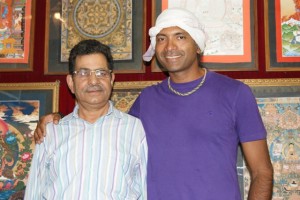 The Pandits were not always at the receiving end – there was a period when they were favoured by even the Muslim rulers for their famed genius and envied literacy levels. Sultan Sikander Butshikan (1389 – 1413) was an intolerant feudal lord who destroyed non-Muslim structures and issued an ultimatum to Hindus to either convert to Islam or flee the land. Butshikan's heir, Zain-ul-Abidin, though a devout Muslim himself, was tolerant of the Hindus to such an extent that he asked those who had fled to return not just to their land, but to their faith as well. Many Pandits were invited to constitute his inner circle which was vested with important decision-making powers. Some sources also allege that the Pandits who had taken flight meanwhile settled down buying large farmlands with their savings and imposed their religion on the locals which led to simmering tensions. Between 1985 and '95, of the 200,000 Kashmiri Pandits in the Valley (approximately 5 per cent of the population), anywhere between 150,000 – 190,000 had fled. Some like Koul were fortunate enough to have had contacts abroad by dint of their famed handicraft trade – who in turn helped them open shop and start anew.
"You must feel really lucky that you weren't the bird which was shot," I was trying to brighten things up a little bit.
"Oh yes, I do," he replied not very convincingly. "But we were birds of the same feather, we were family."
The fateful night terrorists shot dead his brother, Koul took whatever possession he had and fled. So did the other abler ones in the family; the ailing elders stayed back, resigned to fate. Close to quarter of a century later, he still doesn't know where the rest of his family are.
Or whether they were alive.