With a Mission, on a High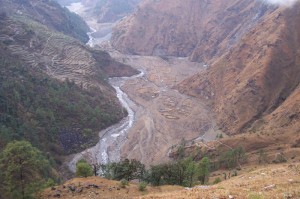 Working to propagate his 'mission hemp' Thommen Jose undertook a journey to Pauna, a small mountain hamlet, 30 km by 'foot or hoof' from the last motorable point in Chamoli, Uttarakhand. It was an eye-opener in more ways than one.
"Lord Shiva was missing and nobody could find him. His wife Parvati was immensely worried and set out to look for him. She descended from the heavens to search the Earth. Looking all over the Kailasa mountain range, she found him in a cave, meditating, with a serene smile."
After narrating the story to me with relish, Giri Raja Swami looked around his own cave and stared at me anticipating the question I was expected to ask all the while furiously tugging at his spindly long beard.
I did.
"Is this the cave?"
"No," he answered, slowing down the speed with which he was tugging his beard. "How can I know where the Lord Shiva sat meditating so many years ago?"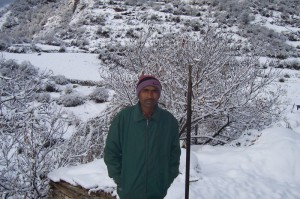 Mission: Hemp
It was time that I had to take my work on hemp to the next level, I needed samples: hemp seeds for my scientist friend at IIT, Delhi, to study the oil content and samples of the male and the female plant, locally know as fulang and kalanga for our agriculture expert friend. A designer friend wanted photographs of processes like retting, de-gumming, etc and machines like those used for carding and charkhas so that he could try and give some inputs on possible technological interventions for a better quality fabric.
Samples and photographs? Sure. Holiday? But of course! Pauna, here I come!
Listen to the locals, or else…
Sanjay, a genial local with intelligent eyes, was my contact and travel advisor. A graduate in agriculture, Sanjay handled the many self-help groups run by farmers from the region who grew hemp. Reaching Dehradun one early afternoon, we lunched with Sanjay at the government guest house and decided to proceed to Chamoli – against his advice – late afternoons during the time of the year usually brought in blitzkrieg rains which meant keeping your car steady on the road impossible. Forget driving.
Before we covered even half of the total 250km distance, it had clouded up badly with a heavy mist rolling in, cloaking my car and limiting visibility to hardly 10 metres. By 6 p.m. it was totally dark and I took an oath to install fog lamps the day I got back, possibly before reaching home even. Any kind of oncoming traffic forced you to meander perilously close to the precipice of a sheer drop.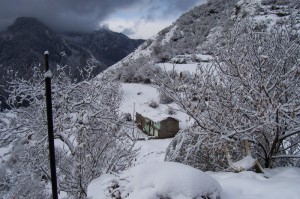 Marriage and a new Titan watch
Sudersan, the guide who was to take me around the village self help groups and most importantly, up the mountain to Pauna where hemp was cultivated, had married just five days ago. So I was expected to forgive him for turning up three hours late. I absolutely relented as he went on about his good fortunes at being able to have 'nice, warm nights' – delivered without even a blush, but as matter-of-fact. My gawking at his candour might have passed off as disbelief and he showed the cheap gold-plated Titan watch he got as a wedding gift from his brother-in-law; something which he kept looking at every five minutes as if he suspected it to die on him.
Looking for warmth
A broken down vehicle took me to the last motorable point, 5 km from the guest house. Looking forward to a good trek and bereft of any heavy luggage – just one haversack – I decided against hiring a mule. An hour of brisk walking sharing happy thoughts on what we could do for the impoverished farmers, we reached a village by the foothill of the mountain  where Sudersan herded me into a shack with 'hotel' scribbled on its door with chalk. And disappeared. After a leisurely lunch of rice, dal and wonderful pickled wild lemon, I started looking around for our still-missing guide.
"Did you see Sudersan?"
"He has gone to visit his wife."
"But… Where is it?"
"It is the next village, just over there. He will be back soon."
The village, indeed, was just over there – you could see it tucked neatly into the base of another mountain some distance away from the one I was standing. With the snap in the air getting stronger with the climb, Sudersan could have gone for some dose of warmth. Anyway, I decided against staying on any longer. Besides the daylight was fast dwindling too.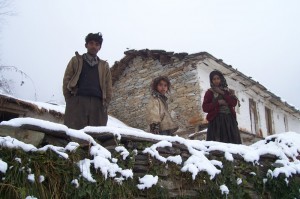 The first kilometre was paved with uneven stones which, nevertheless, provided a much needed foothold. This soon disappeared into foot-wide pathways with an occasional rock jutting out making a pointy grasp. The road was perilous and exhausting; my breaks became more frequent as the oxygen levels went down. The one good thing was, though I was bereft of a guide, there was only one path that led to the top, so I did not have to fear about losing my way. It was when I heard some voices coming up.
The mountain folk are simple by nature, full of optimism and zest for life. They are survivors, refusing to be bogged down by anything. Despite progress having left them alone, hungry and cold high up in the mountains, they carry no grudge against anyone. Though I slowed them down thoroughly, they gladly allowed me to hitch myself to their bandwagon. Probably it was their kindness that made them answer 'just round the corner' each time I asked 'how far more'.
As luck would have it one of them was the village headman's son, who was already ordained the Mukhiya (chief). The lady in the group was a teacher who was going further up from Pauna. The group maintained an elegant pace which didn't make them seem to be climbing at all. They were talking, laughing and walking…strolling, rather. Finally, an eternity later, I stepped on flat stones, neatly placed one above the other and we kept on walking, too drunk with exhaustion.
The Mukhiya's house, expectedly, was the biggest of the few houses in the village. As I warmed myself over the coal pot, hot tea was brought in by the Mukhiya's wife. Dinner was piping hot roti and dal which I gorged on till I realised that my host was waiting for me to finish to he and his family could eat. Graciousness at its supreme, what else!
Morning brought with it a refreshed body and a brand new landscape. Soon as daylight peeped through the cracks of the tainted glass windows, I opened the door to a perfect postcard picture – snow everywhere, hanging down rooftops, forming a gentle white mound over the steps, drawing a white silhouette over the bare tree limbs, everywhere. Specks of dazzling white could be spotted all over the mountains and the valleys beyond. I just stood in awe taking pictures as the village children giggled at my excitement. I decided to stay on for one more night and some neighbours decided to join too with stories about their village, their lives and hopes.
Including Pauna, there are over a dozen villages in and around the region where hemp is cultivated – Mangroli, Adibadri, Chinka, Kothia, Senti, Jangalchatti and Devalibagarh are the more prominent ones. Hemp farming is mostly community-based with the Kuthlia, Bora and Pabila communities engaged in its cultivation. However, with more and more male members from these communities migrating to nearby towns in search of a better future, the numbers of farmers was going down. The community members, who are gifted craftsmen and hardworking by nature, were forced to work as manual labourers in construction sites or in small hotels.
Let the journey choose the route
Climbing down, sometime unbelievably, is as strenuous as going up and takes almost the same time. The Mukhiya had lent me a new guide and we took a different route down as it had snowed the previous night – slushing out the route I took going up. We passed by a community mill that worked by the power of the running water of the stream directly beneath it. Nobody mans it, but it is a collective upkeep and each family which uses the mill for grinding wheat donates a part of it to the family which stays nearest to it – which is entrusted with its safety and smooth running.
We were tired by the time we reached the point where I was dropped off earlier and I shared a few cups of warm tea with my guide before we parted ways. Thankfully, there was a vehicle waiting there, but full. I piled inside as people – already spilling over – chuckled good humouredly and shifted to give some non-existent space. With his one hand outside the door, tapping with his fingers to the loud FM radio music, the driver kept talking animatedly to the pretty young woman who sat next to him while the winding mountain roads kept whirring past somewhere in his periphery. Partly because of the 'still-missing-Sudersan' I believed everybody needs to be warm and partly because I was too tired to care, I sat in stupefied silence clinging hard till I reached the safety of the guest house.