Where have the (real) pilgrims gone?
How well and truly have we moved on! Then, the colossal ecological devastation of Uttarakhand which left thousands dead and missing was two months ago! So now it's time to shun, humiliate and threaten – and charge-sheet – Durga Shakti Nagpal, the brave IAS officer and crusader who went after the sand mining mafia ravaging Yamuna River. In Uttarakhand River Ganga, the country's lifeline, flared up in anger and helplessness by reasons many believe to be more of a human nature than natural; locals and environmentalists call it a 'human tsunami.' For many years scientific organisations had been warning the authorities that the fragile ecosystem of the region was bursting at the seams – rampant rock blasting for road construction, a whopping 70 hydroelectric projects on the way and mindless encroachment on river banks in the name of tourism, all were set to take its toll. And how it did!
I might sound like an alarmist, but it's true that at the core of this disaster is tourism. With it, I am not discounting the insatiable greed of our politicians or the unchecked corruption running amok in the corridors of power and big business. But in order to accommodate the burgeoning tourist traffic heading for the Char Dham pilgrimage, four-lane highways are being carved out on the slopes of the Himalayas. The Himalayas also happens to be the youngest mountain range in the world – making it fragile and easily destructible like anything young. Nature has been bountiful here – both its beauty and bane. "The Garhwal district (of Uttarakhand) has 60 rivers of different sizes, besides these there are rivulets and springs and fountains in hundreds," wrote Rai Patiram Bahadur in his seminal work of 1916 'Garhwal, ancient and modern.' Does it come as any wonder then that an unbelievable 70 dams are planned along the Ganga and its tributaries? Successive fasts by Swami Gyanswarup Sanand of the Ganga Sewa Abhiyanam have forced the government at the centre to declare the area from Uttarkashi to Gaumukh as ecologically fragile. The current state chief minister has been trying to get this repealed for obvious reasons; here's hoping the disaster will open his eyes to the deeper abyss he is leading his people and state to.
True, the monsoons were heavier and harsher than usual this year. And they came early to boot. But the climate changes only added to the instability the region already was subject to through massive destruction in the name of development. Dynamiting rocks to make way for roads, tunnels and dams means massive landslides with the resulting rubble settling down along the river beds. With no space for flowing water, it's anybody's guess the rivers will flood. If you have driven through Uttarakhand during summer, you will remember seeing massive boulders along the dried up river beds. I do and I have pictures. The flooding of the Ganges also brings to light the media flak noted environmentalist Rajendra Pachauri, chief of the intergovernmental panel on climate change received during the Copenhagen Climate Summit for apparently 'not correcting' the panel's assessment that glaciers would disappear by 2035. Satellite images irrevocably prove that the flooding was caused by the melting of the Chorabari Glacier, located at a height of 3,800 metres. Why 2035? We must be lucky if the glaciers last another five years.
As the number of vehicles plying Uttarakhand with pilgrims go up – the state transport department shows that while over 80,000 vehicles were registered in 2005 – 06, 180,000 hit the roads during 2012 – 13 – you cannot help but wonder about the real nature of a pilgrimage. Pilgrim tourism is essentially 'slow tourism;' our forefathers used to traverse hard roads and high lands on foot. At the root of any pilgrimage is a desire for real transformation which does not happen with a touch or a kiss. There is serious looking back and contemplation of the way forward – which are made possible by more time on the road. The river Ganga is sacred not just for Hindus but for the whole of India, it's the country's lifeline. The four points of Char Dham where the perished or trapped thousands were headed to – Gangotri, Yamunotri, Kedarnath and Badrinath – were declared 'bhu tirth' or sacred sites primarily to protect the Ganges and the Gangetic Plains of the Himalayas. The whole point of a Charm Dham Yatra or pilgrimage is to connect us body and soul to these sources of life. What purpose does it serve if you reach these sacred sites comfortably ensconced in air conditioned luxury? Worst still, you hop in and out by air?
If not exactly as a pilgrim – I was making a travel series for television – I did the Parikrama / Kora of the Mount Kailas in Tibet two years ago – a 54 km round trip from the mountain base. Thanks to the rough and tumble terrain, even Japanese SUVs reach till a certain point only – even though many pilgrims try to coax and bribe the driver to go further up. From the group of about 50, there were just two who completed the circumambulation by foot: me and a much older but enviously sturdy ex space scientist (while many dropped out after the first day, the rest hired horses and mules for the journey). After the Kora, we started to share a mutual admiration for each other – frankly I more for him – though we didn't say it we knew that we had done it the way it should be done.
It's up to each one of us to be pilgrims in the real sense: Have more respect for sacred sites, have true understanding of why they were made sacred in the first place, show our respect for pilgrimages by making them genuine and ardent inward-looking journeys, one of introspection and soul-cleansing. Yes, mandatorily having to undertake these spiritual journeys by foot – like they are meant to be, like they were done by our ancestors, like they are still done in some parts of the world like the Shikoku Pilgrimage of Japan or St James of Spain – might come in the way of their popularity but definitely not their sheen. After all, these are journeys of a lifetime meant to guide us through this life as well as through the ones that follow. If we cannot spare the required time for a cushioned afterlife or a guilt-free life here, then it's up to the government to put much-needed restrictions in place. Numbers of pilgrims visiting the region should be curbed – drastically, if I may – by giving preference to older folks. Those below 15 or 20 years should be told to come back after they have lived some, maybe in not as many terms. Heavy vehicles should be banned from the higher, fragile areas. A major landslide in the state's Bhatwari region in 2010 which wiped out the main market including 30 shops and 25 houses was also attributed to heavy vehicles plying the 'kutcha' mountain roads which weakened them further.
If Ganga foamed and frothed with wrath, Yamuna will show its displeasure at the continued pillaging of its beds and banks in an equally destructive manner. Indiscriminate mining of rivers will force it to change its course which will result in widespread flooding. If a 10-min nonstop downpour can submerge the roads and subways of Delhi, imagine what a flooding of the next door Yamuna will do. For those of us living in high-rises whining of 'khara paani' or just plain undrinkable, unbatheable water, it's the sand that acts as a filter for polluted water. It is the sand that helps a river store its water and once the sand is lost it will take a long, very long, time to replenish it. Digging the river beds, we are digging our own graves. You can't sit there idle anymore because you live in a farmhouse or responsibly harvest rain water; depletion of drinking water in the city is reflected vividly in the soaring bottled water business.
Durga might be reinstated or shown the door; it has become more than an environmental issue or that of a brave crusader taking on a well-connected sand mafia. It has attained import as a means of political blackmail and skulduggery. The recent ban by the National Green Tribunal banning mining of sand from rivers across the country without the requisite approvals in the wake of the Durga episode might come as a breather for the already beleaguered Yamuna along with dozens of other rivers in the country. As the Yamuna sighs in relief, however ephemeral, here's remembering Swami Nigamananda who died on a hunger strike two years ago protesting illegal quarrying and sand mining in Uttarakhand.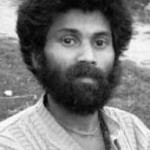 Nigamananda, aged 36, died on June 13; the cloud burst that ravaged the state and killed thousands happened on June 14.