Uttarkashi: 'Off' is the new 'In'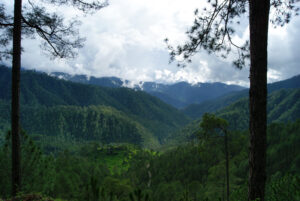 A trip to the remote hilly town of Uttarkashi during the monsoon was an eye-opener for Thommen Jose – off season doesn't mean nature has taken a break from looking beautiful.
Nature is like a little girl who likes to dress up when no one is looking. The nearer I got to Uttarkashi in the north-western corner of Uttarakhand, the more it seemed true: not only were there hardly any tourists out here, the only people on the road were the sadhus whose sights were fixed on bigger things, anyway.
Uttarkashi is a 400km drive from Delhi – start early morning and you are in this pilgrim town late evening the same day. That is if you are not waylaid by a landslide, quite common during the monsoon. I had to call it a day at Dharasu – a village with six buildings and one bridge – 25 km from Uttarkashi, due to a massive landslide where the furious Ganges charts out its own course from the Bhagirathi. Two desolate looking buses with pilgrims from Rajasthan were parked a safe distance away as passengers with colourful headgears squatted about luxuriously chewing betel and spewing red all around. The biggest building was a prehistoric, four floored lodging and boarding arrangement, right next to the confluence point of the Ganges and the Yamuna. The owner cum cook was permanently glued to his mobile phone hung around his ear by a string that went around the other, free ear – an India versus some country cricket match was in progress.
Next morning we woke up to the sounds of a powerful machine – it was a virile-looking sardar harmoniously at work among the scores of gears in his Tata-Hitachi earthmover, removing the mountain debris from the road and watched on admiringly by the younger of the ladies. We resumed our journey along a makeshift rock-strewn, dirt track carved into the mud wall on the side – a stretch that called for some serious manoeuvring, but luckily didn't last for long. I found how lucky I was to have otherwise missed the lovely approach stretch to this base camp for the Hindu pilgrimage circuit, Char Dham, of Gangotri, Yamunotri, Kedarnath and Badrinath. The drive itself is nothing short of divine. The road cuts through unending expanse of stately, verdant hills in the clearest green you would have ever seen – a green so different from the bluish-green of winter or the orangey-green of summer. This was green-green. No nonsense deodars rise up busily on one side. The clouds breeze over with a sudden snap while a playful mist hugs you now and then.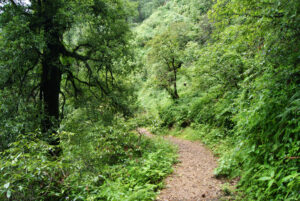 Uttarkashi is like any other pilgrim town – boisterous buses, roadside shops selling religious articles and bored vendors constantly re-arranging their wares. There is that one fuel station with a dispenser so rusted old you expect it to pump out crude oil instead of petrol. Kuteers or ashrams are everywhere with a milling saffron-clad crowd and the occasional European sadhvi hurrying by with gaze fixed intently on her soggy, fruit-laden jute bag. Cheap, decent accommodation is easy to find and you get a room with a balcony facing the holy Bhagirathi River for a small premium.
Even if you are not here for the Char Dham, Uttarkashi throws up some wonderful options for trekking and outdoor adventure. The Nehru Institute of Mountaineering offers basic and advanced courses as well as adventure packages. However, since not much seemed attainable by way of mountaineering on an overcast day, I decided on trekking. Dayara Bugyal and Nachiketa Tal were the two options available. While Dayara Bugyal was already famous for its Butter Festival, locally known as 'Anduri', celebrated in August and a recent trek by Rahul Gandhi, I decided to do my bit for Nachiketa Tal. My decision was also spurred by the fact that Raithal village where Dayara Bugyal was situated had become inaccessible due a landslide, locking it out from the outside world.
"Sir, the Nachiketa Tal was built by Nachiketa himself." Said Attar Singh Rana – "you can call me 'Singh-ji'", he announced mercifully.  Singh-ji was the self proclaimed 'guide and friend of all tourists' who befriended us at Chaurangi Khal, a village-squarish place, 30km from Uttarkashi, on our way to Nachiketa Tal.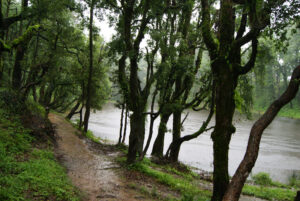 "But who is Nachiketa"' I asked.
"But you don't know Nachiketa?" Singh-ji looked genuinely befuddled. I shook my head in self-imposed shame.
"Nachiketa was a great Indian sadhu who was offered to Yama, the god of death, by his own father," he explained.
"Now," I lowered my voice so that it might help not befuddling him further. "Why would a father offer his own son to Yama?"
"The father gave away all he owned to please the gods and finally all that remained was the son." Plausible enough. Those were the days.
"But Yama spared the devout son." And I really was worried for him.
"Sure, let's go to Nachiketa Tal," I said.
The Nachiketa Tal was a three kilometre trek from Chaurangi Khal; the trek alternates between a strenuous and a gentle climb, worth every pant. The trail goes up forgotten, lonely ridges, slips down rocky descends, jumps across fallen, hollowed trees, pumping the freshest oxygen. Small waterfalls merrily trickled down the intermittent overhanging rocks like sourced directly from the heavens. The sun doesn't try too hard to reach beneath the rich foliage rendering the forest a magical golden green hue. The trek grows on you and you hope it never ends. This is nothing short of a walk in paradise.
The shrouding mist rendered the Tal or lake the mythical dimensions it lays claim to. A gently falling rain made it look like a million pearls strewn over and the lake was framed from all sides by the looming, leaning woods. The seclusion is so wholesome and nature so benign you don't have to wonder far on why Nachiketa decided to stay put.
***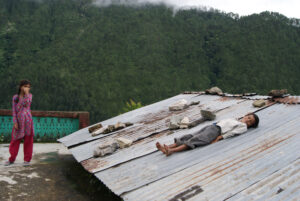 Returning, we were stopped by the forest officials who asked us to enter our full names and address in the moth eaten ledger. I wondered aloud the purpose of entering the details as we were back; the information is to be used in the event of a visitor not coming back. But it turned out that I was the Muggles, again.
"Anybody going to see Nachiketa Tal returns safe and happy," Singh-ji said as the three khakhi-clad officers sat smoking beedis and tracing the leaves of a lonely fan that hung from the ceiling. "Nachiketa blesses them all."
Now, that's India: a little bit of mysticism, a little bit of spirituality. And a whole lot of natural wonder – any time of the year.