SK Pottekkatt: Trailblazer travel writer
'Bridge View' was the name I gave my writing room – a rented space in a commercial building by the banks of the canal. It had a unique atmosphere marked by a strange colour and odour. Sound even. The stink from the cremation ground towards the west wafted in with the wind along with the stench of coconut husks being retted nearby. From where I sat I could hear the rhythmic thrashing of the pulp with wooden mallets like drumbeats. Sometimes after work I would put out the lamp and sit by the window facing the canal and eavesdrop on the conversations of those passing by. Giggly gossip of maidens returning from the market, song of the soaks and sometimes even shrill screams of the fox…
(Translated from a diary entry dated January 1, 1943; an exhibit at the SK Pottekkatt Cultural Centre, Kozhikode.)
It was during an extended stay in Kerala last monsoon that I discovered SK Pottekkatt, prolific writer – author of around 60 books – and compulsive traveller – 18 of which are travelogues. I read Kappirikalude Naattil (In the land of the Negroes) and London Notebook, breezy reads both, over a weekend while palm, coconut and rubber trees slanted and swayed in unison under a harsh downpour. Lightning drew a shimmery blanket over the glistening tree tops and thunder broke like seismic trance in the horizon. What grabbed me but was the writer's discovery of a place through the people which brought alive the narrative, literally. His fascination with the fellow traveller, man on the street and host for the night, besides depicting the cultural and ethnic diversities in the most engaging manner also portrayed the personal anecdotes vividly. Like the young con artist in London, who made his acquaintance pretending to be a student and tried to sweet talk him into parting with charitable dosh. Quite charmingly, a characteristic empathy precludes judgments and generalisations except probably when commenting on the fates of suppressed peoples – which are again mostly an indictment of colonialising powers.
More from the diary
Kunjiraman Master's death was sudden and unexpected. One morning while watering the mango saplings he coughed, once. A wracking cough. He coughed again and then again. And then there was no respite. Clutching his chest he fell down. Soon he was dead. Just like that. Father had left his temporal abode, gone forever. Nobody will see a fair man with a proud bearing, sandalwood paste smeared across his forehead, wearing a hat, coat and spectacles and umbrella in hand emerge from our house again. What remained of him was his legacy of honesty and trust.
Some evenings I would go to the beach. Engrossed in daydreaming, I would miss the eight o'clock deadline – to be back home. I would then try to sneak in unnoticed by my father who would be reading on the easy chair on the veranda. His spectacle glasses would twinkle reflecting the light from the table lamp. He would glance once – a glance full of rebuke and a stern warning. After his death, his property was divided among all the relatives. It broke my heart to leave the house where I could still feel his presence. Leave behind his mango saplings and his fruit garden, and the path which he trod among them. I looked again at the possessions he had left me in a cotton sling bag: his glasses – which have witnessed only goodness and truth in everyone and everything, a bird feather gifted by Hashim Munshi, a notebook containing love poems written by someone who loved him many years ago and another notebook with his own poetry.
I hung this bag around my shoulders and took the hand of my grieving mother and walked out of our own house, forever. After settling down my mother in another house, I began my travels – first to Bombay. And then to the rest of the world.
(Translated from another exhibited entry displayed at the museum.)
Early travels
For most travellers there is that one defining journey which sows the seeds of wanderlust – a journey from which you never return completely. For the politically active Pottekkatt it was a 1939 trip to Tripura to attend a meeting of the Indian National Congress, to attend which he even resigned from his job as a school teacher. He was to follow this up with an all India tour in 1941. A year later he was forced to leave for Bombay to escape arrest because of his underground activities supporting the Quit India Movement. In Bombay he worked as a clerk with the textile department but resigned again two years later to travel – this time to Delhi, Kashmir and other parts of India. He returned to Calicut in 1945 where he took up residence in Chandrakantham, which, to my wonder stood intact still (picture). Having covered most of India, it was time to turn towards lands farther, vaster, to the 'rest of the world.' In 1949, he went abroad for the first time – a momentous journey that lasted two years. His ports of call were primarily Africa and Europe – Nyasaland, Sudan, Uganda, Egypt, East African countries, Portugal and Italy, Switzerland, Germany, France and England.
He got married in 1952 and took off again to cover Asia, this time with wife in tow. She didn't however accompany him in his East Europe sojourn in the mid-50s.
People love  
In January 2013 National Geographic Fellow Paul Salopek tracing the migration of humanity began his seven year walk from the Great Rift Valley in Kenya, East Africa – which was Pottekkatt's first stop 64 years ago. Like Salopek he too wanted to begin from where it all started. In an interview before his departure he announced that he was following an unknown traveller who said that 'to see real humanity one should go to Africa.'
Pottekkatt's love for people was real, his curiosities bona fide and he was willing to go to any extent to satiate them. He hurled himself with a boundless brio headlong into parlous situations to be with the hoi polloi – he rode on the back of mules and donkeys and travelled on open decks over high seas. He did not hem himself in by comfort even though he could afford it. An embassy officer suggested he travel by aircraft while in Sudan to which he replied that he came to Sudan 'to see the land and the people and not the skies.'
My god is the god of walkers. If you walk hard enough, you probably don't need any other god. (Bruce Chatwin)
The burghers everywhere he gave a wide berth. To get real insights into the land you had to interact with the commoner for which he walked. In Bali Dweep (Bali Island) he says that he never baulked from walking up to 10 miles every day – to get a good look at the villages and lives of the people. The essence of slow travel is not just seeing but experience the land, people and their culture. In Simhabhoomi (Land of the lions) he describes the Masai women as 'wearing brass bangles which weigh around half a kilogram on their neck and ears and paint their faces with mud which make them look like beasts.'
Because of my own early years in Africa the observations he makes in Kappirikalude Naattil resonated for their astuteness and well-meaning. The simple 'hello' being employed not just as a greeting but also as a response; different inflections marked dismay, wonder or respect. The African laugh as 'hey hey hey' with an extended 'eey' as opposed to our 'ha ha ha' was so simple and spot on that I thought of Humphrey after many years. In Soviet Diaries, he writes about a race that is 'self-confident, understanding and accepting of each other,' Though a thinking person from Kerala, he was not exactly a janizary of communism; 'the system is far from perfect' he notes which shows his observations were not baseless or jejune. His landscape illustrations were neither sesquipedalian nor frilly but he said it like he saw it. A rainbow looked like an 'arch made of precious stones' and waterfalls 'roared like a thousand lions.'
Pottekkatt was a slow traveller – a way of seeing adopted by iconic travel writers many decades later like Colin Thubron and Paul Theroux and Bruce Chatwin whose works were largely responsible for travel writing to be recognised officially by publishers as a gainful literary genre.
To the museum
Thus suitably seduced by the 'lascivious' city women, intrigued by 'conniving' girl students, enthralled by 'enchanted' porters and 'endless hours spent watching the waterfalls' and piqued by some seemingly harsh indictments like 'prostitution which gave rise to the "coloured" race – a colour which will again lead them into prostitution' I took the overnighter from my hometown Pala to Kozhikode, 250 km away, Pottekkatt's hometown. It also gave me the opportunity to check out the much-touted air-conditioned low-floor buses which marked the newly set up state transport body KURTC – whose arrival on the scene like the dapper scented Gulf returnee relegated the age-old KSRTC to the grumpy fringes like a straitjacket relative of strained circumstances. All the comforts one expected from the new technology were extinguished by the sharply coiling edges of the seats of hard plastic which ensured not more three minutes of comfortable sitting if you possessed a posterior slightly bigger than a six year old. Sleeping was ruled out like bail for Kiku Sharda after his re-arrest. The next morning as we rolled into the bus terminal at Kozhikode (Calicut) I was lolling in the aisle, backpack as my pillow while the rest of the passengers sat painfully straight, sleep-deprived, staring at me with red-eyed jealousy.
Puthiyara, not many years ago, was a sparsely populated hillock, verdant, with narrow paths radiating in all directions. These narrow paths today are narrow roads with vehicles hurtling up and down, apartments and bungalows on one side and small, decaying businesses on the other. At the topmost point was a water tank which has been converted to the Pottekkatt museum – the adaptability the obsessive traveller would have surely approved. I wandered through the writer's personal and professional effects – short of his portmanteau, most of the contents were there – two wrist watches, spectacles, two cameras, an aftershave with some still left, a sweater, a pair of trousers. There were newspaper cuttings which served as inspiration for his short stories and the expense sheets during his travels – money spent on laundry and stamp and cigarettes had all been entered meticulously. He had a very proud mother, I am sure.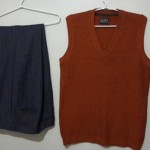 Biographical museums are usually housed where the person lived. And Chandrakantham where Pottekkatt lived from 1945 till his death in 1982 is just a short walk away from the museum. I went there where I met a tenant family who was happier the rent was lower than market as the house was dilapidated. I really hope one day the museum will be shifted from the erstwhile water tank to a refurbished Chandrakantham.
Pottekkatt who?  
Pottekkatt's literary prowess was recognised and feted in his own lifetime. He won the Kerala Sahitya Akademi award for Oru Theruvinte Katha ('The story of a street' which revolved around the popular Sweet Meat street of Calicut) and the Jnanpith for his biographical Oru Deshathinte Katha ('The story of a land'). He was a literary great moving in the circles of the other greats of his time. Ebullient and witty, he was loved by his peers. The frequent visits of Vaikom Mohammed Basheer to Chandrakantham were raucous as well as stimulating. He even dabbled in politics making it as a member of parliament once.
But the genius of Pottekkatt as a travel writer whom many consider a lodestar of the genre continues to be neglected. This is when he broke new frontiers as a travel writer and enlightened us with accounts of primitive traditions from the Dark Continent where brides are won with enemy heads, regaled us with comparisons drawn between Sikh jokes and those contumely ones made on the native African by Indian settlers. Of the many reasons accorded for this I found most unsettling the regionality in his narrative. Like maybe the analogy made between the African tribal dressed in white silk clothes to Palani and Sabarimala pilgrims.
Then, isn't this exactly the charm and lure of travel literature – while introduced to one people we become friendly with two, even more?