Nice-to-Own Travel Gears
My Land Rover phone had held me in good stead the last year when I really roughed it out – including the Parikrama of Mount Kailas in Tibet. I must have dropped it umpteen times and dropped it in flowing water, once even threw it to scare away a ferocious, snappy mutt. It was even returned to me once when I lost it – then like my friends say it could be because it resembled a bulky walkie-talkie. Whatever – it had run its course, served me well – I decided to go for an upgrade and was in the e-market right earnest. Checking out gadgets and not just a phone but those which were tailor-made for travel; if possible to find out a phone which was birthed for travel. Along the way, I came across several travel-specific gadgets that I loved to lay my hands on. But none of them came fitted in a mobile! Nevertheless, any traveller's delight, these are gears that will see you through the rough and rumble of the forest trek, the slip and tumble of the mountain trail and the depth and dark of the deep seas. Gears that have rephrased the question 'How far can you go?' to 'How far will you go?'
Contour Wearable Camcorder
Going biking, hiking or surfing? And want to record it? No, no, no, mobile cameras are not the answer. I recommend you get yourself a wearable camcorder from Contour. The camera shoots in 1080p high-definition video and can be mounted on your bike's handlebar, helmet or anywhere else you want to shoot from – leaving your hands free to do the riding, sliding and the manoeuvring. And the brushing away mud after that tumble. The company claims that this is the world's first and smallest wearable camcorder which films in HD video. This definitely is the best option available at the moment to record all your adventure when you head out to the great outdoors next time.
Portable solar chargers
With telephone towers across the country, there is no dearth of signals to call and tell your pals that you are having a chilled bear in a ramshackle on a Goan beach or close on the heels of a tiger in Corbett. But how many times have you gone 'tut tut' as there was no power in your mobile? The mobile recharger Powermonkey from Powertraveller enables you recharge on the go: its 3500mAH lithium polymer battery, housed in a full body aluminum case can recharge standard mobile phones 3 – 4 times. It is also compatible with handheld game consoles, portable GPS systems and e-readers. In case you want more power, yes you guessed it – you get the Powergorilla!
Underwater cameras
There is one thing that we all know – the world beneath the sea is not just exotic, but breathtakingly beautiful as well. So you cannot be blamed if you pine for that snorkeling holiday you had in Mauritius – again and again! But next time, you dive beneath into the blue seas make sure that you come up with some wonderful photographs as well. The Olympus Stylus Tough ensures you do that. These cameras that come in two variants – 8010 and 6020 – are not just waterproof, but 'shake-proof' and 'freeze-proof' too. And when you come to Olympus, there is no doubting the quality – you have at your disposal 14 MP, 5x wide zoom, a built-in Dual Image Stabilisation and 2GB internal memory. Well, go ahead and bring back memories from wherever you go. And by wherever, I mean wherever.
Travel chargers and adapters
Your flight has been announced. Your mobile is still charging at the coffee shop. Your iPod is with a friend who is charging it from where she is accessing free internet. And there is another friend who is charging your tablet… Sounds familiar? This doesn't have to be your story anymore. The Kensington 4-port USB charger looks not just dandy, but makes your gadgets pretty much organised too. XTG Technologies too have similar products in interesting designs. If you are an Apple-bum, then charging your iPod, iPhone and Mac computer anywhere in the world is made possible with the World Traveller Adapter Kit. Like everything from the Orchard, this one too is a sleek beauty worth at least a dekko.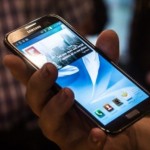 Though I was hugely tempted to pluck from the Orchard, I decided to go with its bête noire, Samsung. Even within my family we have huge debates over the iPhone vs. Samsung saga and we trawl vociferously over all grounds – ethical, moral and price and feature-wise. I would have settled for the iPhone 5 but for small screen. Writing on the go needed a bigger screen and I opted for the Galaxy Note 2 – this was also more value-for-money than the (at par priced) iPhone 4.
What I just said will surely lead to another round of heated debate at home. But my only hope is that I don't drop my new phone – ever. And by that, I mean never!