From the Himalayan foothills, with awe
The horizon fringed by jagged snowlines is recurring but not repetitive. You wrestle figuring the Gauri Peak from the Barmal but the white-capped ballad that plays out before you very soon take your mind off such mundaneness as names. The Dunagiri looks better awash with the amber glow of the setting sun? Or with the golden rays of the rising sun sliding over the overnight verglas? Some questions have no answers. As an ancient Indian proverb goes 'A hundred divine epochs would not suffice to describe the marvel of the Himalayas.'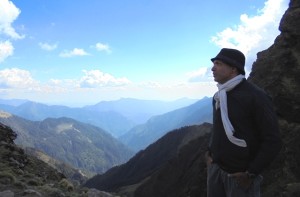 Through sheer pleasurable coincidence May 29, exactly 61 years after the Everest was first summited, found me trekking the Himalayan foothills that flank the northern part of Uttarakhand. I was following the Lord Curzon trail that starts from Auli, the little mountain resort that comes alive during skiing season; close to 30 km of the most spectacular landscape – meandering meadows, narrow pathways etched on mountain sides going up to nowhere, weaving through glistening talus, loosing foothold, sliding over snow covered spires and sastrugi. Some of the stuff Tenzing and Hillary would have gone through before they outfitted crampons to their snow boots and took out ice axes. I was breathless with more than the exertion.
In Dehradun, Uttarakhand capital, waiting for the next trek in a couple of days, my main agenda was warm shower and laundry. But the best way to ready for another foray into pass and penitentes would be to relive the one just done – see those sights, again, recollect the people and their tales and remember how you came alive.
And how alive you came.
For moderate treks the first camp is usually below treeline. After about eight hours of climbing through forest trails, brushing past fluffy dandelions and red dot strawberries, mazes of spiralling rhododendrons and hollowed out centuries-old oaks that look like voodoo masks, Tali is a popular camping site with a gurgling stream next to it. Now the catch is when it rains water seeps through the ground and sleeping bags are soggy all night. It did and I spent the whole night wishing my spine would stop convulsing.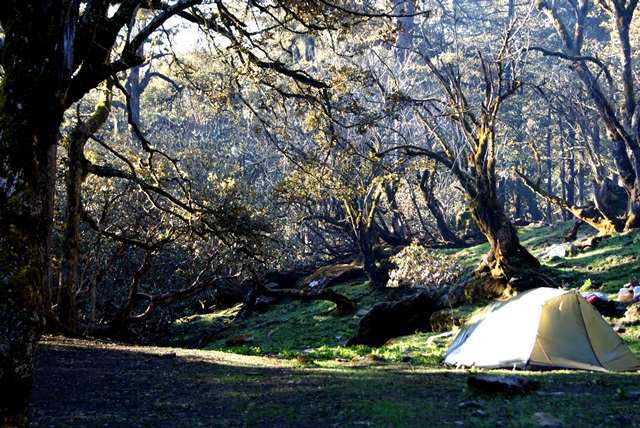 I called him Buddy which was not his name. Then he didn't respond to 'Shera' either which was his real name. Buddy was a shepherd dog and kept a close, unrelenting vigil over the 1,000-odd flock that roamed the meadows. He kept office right outside my tent ensuring my total sleep deprivation. Though he would take anything, even biscuits grudgingly, Buddy was partial to cheese sandwiches and boiled eggs; I shared mine with him and he was to follow me till the end of the trek.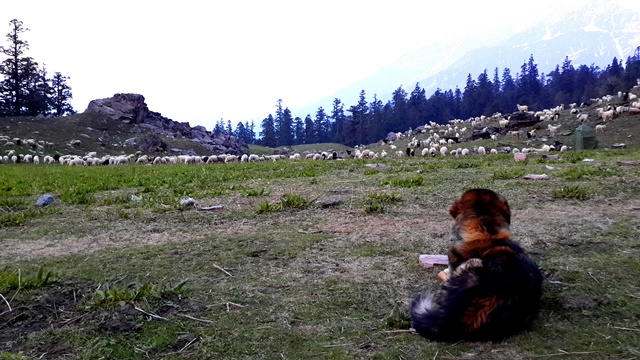 The Himalayas lie in a 2,400-km arc and abuts six countries – Nepal, Bhutan, India, China, Afghanistan and Pakistan – and is home to the planet's highest peaks. There are over 100 mountains in the Himalayas that exceed a height of 7,000 metres. The Dunagiri (in picture) at over 7,000 metres is among the highest in the Garhwal region of Uttarkhand.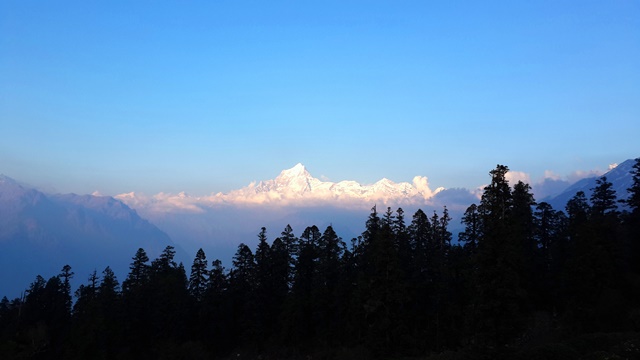 It's ironic that the people inhabiting such a beautiful region would be living in so much penury. The per capita income of the region is miserable, a condition worsened by high population growth. Though agricultural land has been carved out from the mountainous regions, the availability of arable land is limited. Tending to livestock – own or for others – is an income supplement for most. Here's a shepherd watching over his ward from behind a boulder which also covers him from the chilly gales.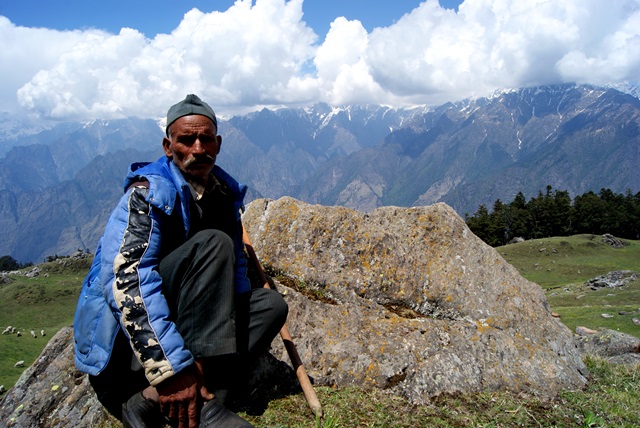 This innocuous dried up twig is as deceptive as looks can go. Yarsagumba (means 'summer plant'), the Himalayan Viagra, is found growing at elevations of over 4000 metres and fetches prices upwards of Rs 10 lakh per kilogram in the international market. Known in the region as 'keeda' – for its insect-y look – you can see locals literally on all fours digging the frozen ground gingerly with their fingers for this million dollar baby.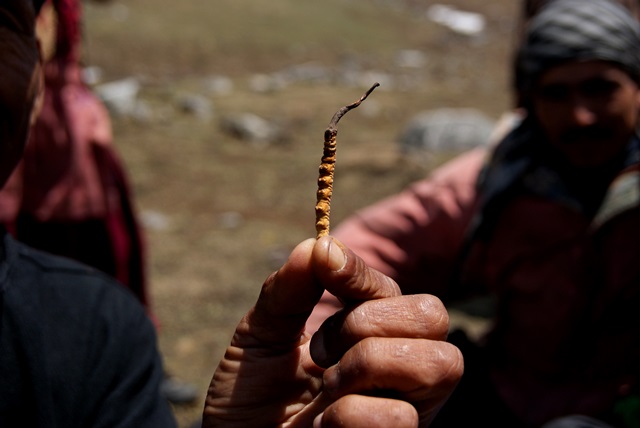 Despite earnest requests and vehement adherence by responsible trekkers and trek organisers, many morons pay mere lip service to the 'Leave no trace' policy. All the trekking guides, including Durga here, pay the price for the nonchalance: they carry huge plastic bags strapped on to their backpacks and pick up whatever trash they come across. This is also an appeal to all not to throw plastic wraps and other trash in the Himalayas. Carry it back to your camp where the guides or porters will take care of their disposal. Thank you.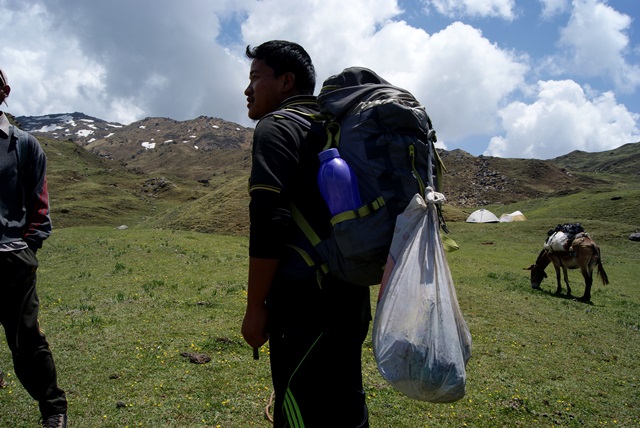 Pack animals such as mules are the backbone of the tourism industry in the Himalayas. Here's a couple taking a well-deserved break after hauling everything – from gas cylinders to sacks of rice and dal, tents and foldable chairs – to the camp at Khulara, day four.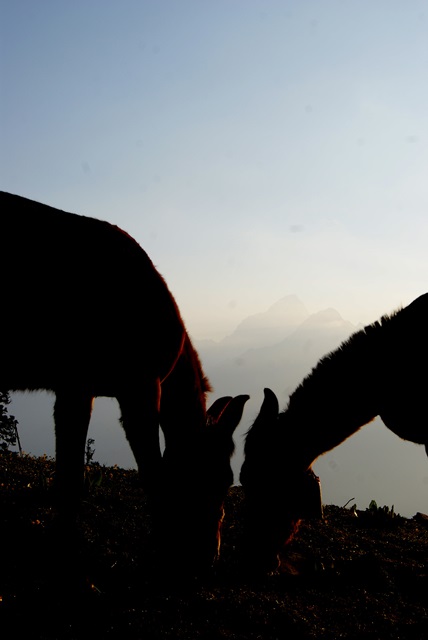 Rs 150 per sheep; total 1,000. Duration six months. Works out to Rs 5,000 when divided among the six of them. This is the working wage of a typical Himalayan shepherd. In return he traverses daunting distances looking for grass, keeps an eye out for wild animals at night, is away from his family most of the year and lives in the hardiest of conditions.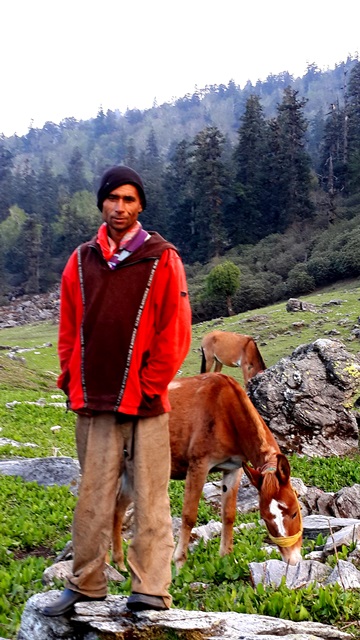 "What's at the end of the Curzon trail?" You ask a local and he will tell you there's a temple. Now, this local shrine – just a shapely pile of stones with no idol but dried branches with bulbous nodes venerated inside – will come as a bit of an anti-climax. For the trekker the real reward is the breath-taking views. Well, do pay your respects too once you are done taking photographs. Strength comes from the strangest of places.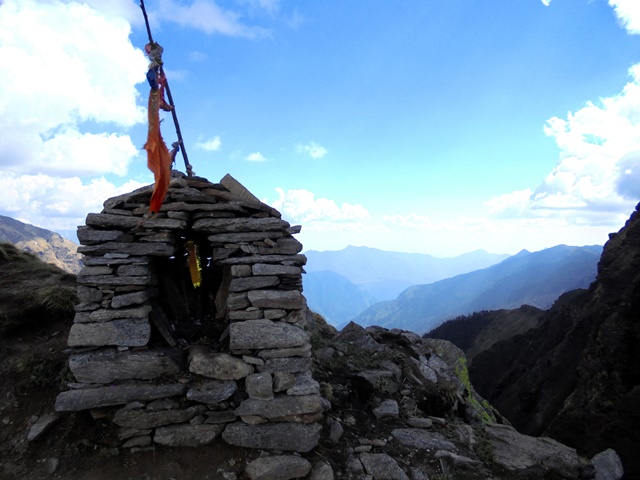 Roaming about one evening after the trek I met these two lads who were cooks from a nearby camp. They were running on meagre rations while they waited for guests and provisions which would be arriving in two or three days. They made black tea over fire and insisted I had some with them. One of them produced a half-finished biscuit packet from his pocket and passed it around.
In the Himalayas it's not just the landscape that is beautiful.