Dunes and Desert Roses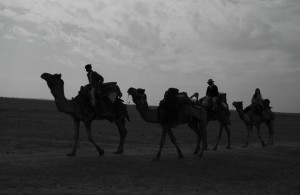 "You happy?" asked Amar Khan, our camel driver.
"Yes," we chorused.
"You happy," Ekaterina, the Russian student who was with us, mimed along as Amar replied, "I double happy." The 'double' had to sound like it contained more than one 'happy'.
But by now we had enough practice: Amar would ask after our gaiety-quotient every quarter hour. The heady feeling of being one with Lawrence of Arabia had worn off after the first day, today was the third. There was no more enthusiastic pointing out weird-shaped dunes or shrieking out the slithery ones as they roped their way across our hooves, the frequent singing had become an occasional hum, and each time the camel angled up from a resting point, there was a giddyap-hurry to reach the next dune-stop. But almost magically every time we replied to Amar's query there was elation, however ephemeral. Self-hypnosis? Maybe. But in mirage country, it didn't seem that out-of-place either.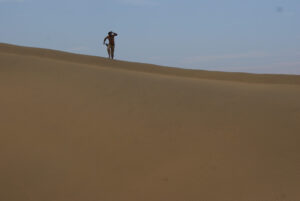 We had arrived in the desert two days earlier – after cameling almost 10 hours from the drop-off point at Chattrel village, 30km from Jaisalmer town. There were many ghost villages on the way; wherever there were people, the children either demanded 'rupee' or 'school pen' and adults unabashedly told us to take their daughters with us. Anywhere you fished out your camera, these tourist-savvy tykes demanded their 'present'. The houses, empty or otherwise, shrink from view just as the landscape turns green with the 'camel-level' coniferous Khejri trees (known as the 'King of the desert' for its wonderful qualities) springing from the ground laced with the shrub locally called Phog in between. They had all the bleak triumphant look of, in Paulo Coelho's words, 'life that insisted on surviving in an environment that didn't support it'. Right next to this green boundary you notice the telltale signs of the great desert ahead – ergs and hamada coexisting in quirky harmony. We rode for some more hours till we were ensconced by towering sand dunes on all sides and a magnificent sun shutting shop somewhere over there, fast.
The night was a roar: we thought we were the only ones to have ventured out so far towards the border but there were others too who thought likewise. As dusk settled in, camp fires dotted the dunes like fireflies in an upturned sky. Among singles and couples from three different European countries, there were two rambunctious guys from the States who seemed to be hell bent on living out The Beach. We shared travel stories and prized travel rations; one of The Beach boys had a guitar and soon we were all dancing quite spirited on the cool, soft desert floor. A reconnaissance flight passed by twice, the second time we suspected it to be lower – and somebody even pointed out a pair of goggled, peering eyes. We proposed a toast to the gruelling regimes of pilots.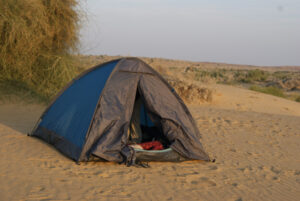 Next morning as I got out of my tent, it seemed to me like the inclines had become steeper and the drops plummeted harsher. I decided to sound off on Amar my suspicions and he said, to my astonishment, I was right. He said it so casually: in between answering he even asked me whether I liked my chai extra sweet. It had been blowing strong since early morning. I was too gone to notice the howling winds. But what if the winds had covered up our tents too? Such incidents are not very uncommon either. Thank you. No, I take my chai with less sugar.
He said we had to move camp as all the noise and the big fire could have garnered unwanted attention. His wariness was understandable as this stretch of the Thar connected the western part of India to south eastern Pakistan; we were too close to the border for comfort.  So after a memorable night of bivouacking under a starlit sky, in a flappy tent, and a breakfast of boiled eggs and bread, we started to Dujasar, a desert village. As the day wore on, the sky caught fire and the hard earth below my Moriya's feet baked; the mustard oil on our new leather bicorns glistened and started to fume. The dunes undulated till beyond – the golden brown, windswept sands easing you into a soporific reverie, a journey in flashback. Where you are forced to take stock. 'Man was born in the desert…', wrote Bruce Chatwin in The Songlines, 'by returning to the desert he rediscovers himself'. Born here or not, I certainly was on a voyage of rediscovery.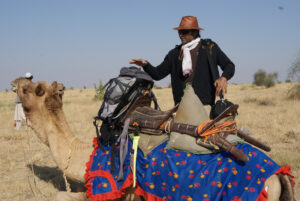 A devout Muslim, Amar prayed whenever we stopped. As he said his namaz, his assistant Sadiq would gather twigs and firewood and get the fire going. Lunch, it seemed, from the snowy desolation of Leh and Ladakh to the smouldering barrenness of Thar, was Maggi noodles. Additional nourishment was provided with extra helping of vegetables thrown in, which also doubled up as stew for the leftover bread from breakfast. The lurching seats had over-secreted digestive juices leaving us all famished. Lunch or tea break, or any stop for that matter, threw up unexpected visitors from nowhere, like gaunt genies. These sombre, gentle folk amble up in bellowing kaftans for a free meal. Rajasthan, an active player in the country's tourism circuit, has given the go-ahead for many tourism initiatives which has left the indigenous tribes of camel herds either totally out or at the mercy of conniving hotel owners and tour operators. Poverty and unemployment is rampant. The villages were deserted as the men have gone to Delhi, UP or Bihar as manual labourers in the booming construction industry; at times the women followed or went to a different place. The children were left behind in the care of their grandparents who painstakingly counted days till the meagre money order came. More often, it never did.
"Take her with you," said Habiba's grandmother when I was photographing her.
"But what do I do with her?" I wasn't sure whether I heard her right.
"It is a different form of Chechnya," Ekaterina broke in. "Then at least there was a war."
The last village was Lakhman-ki-vasti, from where Amar hailed, before the pick-up point. While the desert itself is quite eventfully bound by the Aravali mountains in the east, the Indus River in the west, salty Rann of Kutch in the south and the Sutlej River in the northwest, nothing much seems to be going for it within. This dusty, broken down hamlet was a classical example. Only one kid asked us for 'rupee' and 'school pen' and he melted away under a disdainful gaze from Amar. A pretty, middle-aged lady brought us tea.
"Wife?" I asked Amar.
"No," he replied, "mother."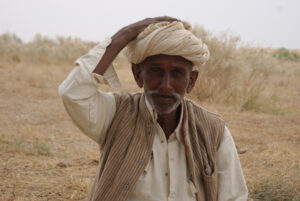 While Amar's skin had all leathered up blackly under the harsh sun and the grainy winds, the lady in her colourful ghaghra choli and heavy silver jewellery looked like a sequel to Sting's Desert Rose. When we told her that she looked very beautiful she proudly attributed it to the care her son took of her. Soon as the tourist season was over, Amar would shift to other tasks in and around Jaisalmer town – sometimes working in hotels – never would he let the family go hungry.
"But you know only how to clean utensils with sand," I teased him referring to the practice of cleaning cooking vessels in the desert with sand; which actually made it shiny clean, fast. And saved ferrying water.
"I am very good cook," he replied a trifle hurt that I overlooked that quality. "You not happy with my cooking?"
"I happy," I said.
"You happy, I double happy," he answered almost on auto.
This time Ekaterina didn't mime along.