Don't be an airhead in the mountains
Driving in the hills is as much about skills as it is being courteous and considerate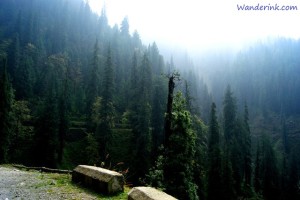 The pickup truck swung at a squirming angle, automotive viscera vulnerable in a groaning metallic crochet. A Honey Singh number gushed forth from the cabin like an aural flame thrower at the serene deodars lending the incongruity a flinching comicality. The truck had only moments ago brushed past me as it hurtled up the hill before plunging headlong into a ditch hidden by a steep gradient. The door opened and the driver emerged, a reed-thin guy in probably his late 30s, with the air of a billy goat on wheels which he was – until then. He was wearing an auburn colour fleece jacket which had seen better days and a sun-bleached brown bicorn. His friends who were sitting further up the hill, at the 'view point' – where he was headed to in his brand new pickup – hurried down unhurriedly. Together they undertook a solemn circumambulation with a lot of head-shaking towards the twisted, rending sight.
"Koi baat nahin, koi baat nahin." It's nothing. They proclaimed to the billy and to each other.
"Koi baat nahin." Billy assured the others. He took another round, solo this time, inspecting closely the right front tyre on which the entire truck stood dangling whose rubber had squished out from beneath the steel rim wondrously un-burst.
"But the motherfucking hole wasn't there the last time." He announced to his coterie before he noticed an interested stranger – me. I could see that his macho-quotient – driving capabilities fringing on daredevilry among indigenous hill drivers – had taken a beating.
"Koi baat nahin." He declared to me unblinking.
"Koi baat nahin." I replied even though I would have beaten myself to a pulp with the axle that was within yanking distance if I were him.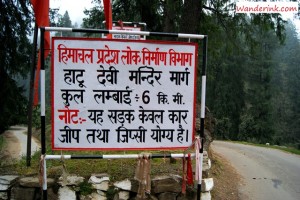 Cocky and careless doesn't help even if you have been driving on the mountains all your life. This is all the more so for those of us from the plains – read Delhi – and who drive the Carlin quote that 'whoever slower than you is an idiot and faster than you is a maniac.' (Many drivers from Himachal Pradesh and Uttarakhand, Chandigarh even, have assured me that there's no love lost for the haughty Delhi drivers. "That one vehicle which has broken lane at the traffic signal in Shimla leading to longer jams and chaos will be DL-registered." A pahaadi cabbie once told me shivering with indignation – a far cry from their usual Zen-guru-on-opium-like equanimity and composure.)
Another scorcher of a summer has settled in and those who can are making a beeline for the mountains. Most are headed to popular if predictable destinations like Shimla or Dehradun, Manali or Kullu. No fear here, the roads whorling about these hotspots are the best you get in these parts – narrow they may be but swathed in reassuring tarmac. (Even then think again before you cut lane in that traffic snarl; souped most definitely if you have a DL plate.) But head to off-piste places like a Kotkhai or Kasauli, Chakrata or Chamba; what passes for roads in these virginal interiors are single-file narrow, un-tarred, gravelled surfaces, life-threateningly friable towards the ledges. Hence it is handy to acquaint yourself with the proprieties of mountain driving – practical niceties towards your vehicle, fellow drivers and other animals.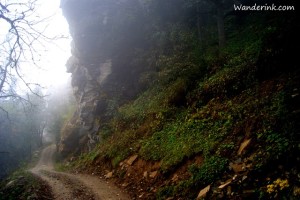 Right of way on a narrow ghat road: Usually vehicles going uphill have the right of way; those coming down should stop and wait at the stretch where the road is wider or has a pull out till the oncoming vehicle passes. For the vehicle that is climbing to stop and back would be going against gravity as well as increased chances of sliding down. A danger compounded by poor treads over un-tarred roads resulting in loss of steering control. However in cases of loaded down cargo trucks which are coming downhill, those which cannot back up, the onus is on the lighter vehicle, even if it's going up, to reverse till a gap wide enough for both to pass. A dicey spot to find yourself in but trust me it's a rush.
If the joust situation is on a level road, the vehicle nearest to a pull out area should back; do not back if you have just passed a sharp bend.
Use more 'engine brake': Controlling the speed of the car by shifting gears is called 'engine brake' – a practice which is not just safer but cleaner too. This way you not only minimise the wear and tear of your brakes but probably even ensure you don't lose your brakes totally. If squealing brakes and burning rubbers and choking on brake dust is your thing find out when is the next open day at the Buddh International Circuit.
If you are looking at a prolonged stay – and driving – in the mountains, change the brake fluid before your trip as old fluids absorb dust and other pollutants lowering the boiling point – causing faster overheating reducing braking efficiency.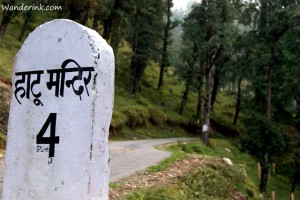 Don't saddle the centre: Many drivers do not budge from the centre – a hazardous practice when taking corners and/or when the other guy is also a 'centre hugger.' It is not just safer keeping to your side of the lane but you are also (relatively) better off in case of a collision.
Never stop the car in the middle of the road: All you might want is a snap of the lush undulating scenery unravelling below. Or a quick leak. Even if you do not see – or hear – any oncoming traffic, always park your vehicle in a wide pull out area leaving enough space for other vehicles to pass. A car stopped right in the middle of the road can be (due) provocation for altercation, ready bait for spirited gilpeys who are bombing it.
Sensible, constant speed: Although you might not exactly be busting a gut still if you manage to cut lanes taking corners you are going too fast. Remember those speed signs which read funny – which we click and post socially, on which some even bring out whole books – have come up there on the strength of some very grim statistics you would hate to be part of.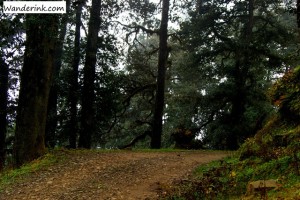 Keep yourself hydrated: The cool mountain climes will not make you feel thirsty like you do on the plains which can lead to dehydration. Nausea, fatigue and headache are the usual symptoms of altitude sickness which is the outcome – which will hamper your focus and attention. Drink as much fluids as you would on any given day. Alcohol and coffee also causes dehydration of which the former with more calamitous consequences. Take frequent breaks and eat intermittent meals – instead of the regular hearty ones – while out here.
Slow down for the deer: Many a ghat road winds through wildlife sanctuaries or reserve forest areas which mean wild animals gambolling out of nowhere right into your path. Even if you come across a wild one pussyfooting by the side of the road ostensibly waiting for you to pass chances are that it will make a dash – just as you pass. Slow down, stop even, let it cross the road before you pass through. Remember long before your lane came this was their home and backyard.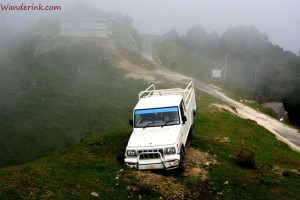 All together they chorused 'Koi baat nahin.' Then following an unspoken cue – like a diktat from the Thought Police of 1984 – they sat around in a circle. The bubba who had tried to run me down earlier produced a crumpled pouch from his auburn jacket. I was motioned to sit by his side, he then went on to shred the dried lumps into even-sized particles while another produced fine tobacco from a plastic cover. Many things were discussed – the price of apples that season, hailstorm warnings in the area, a common friend's upcoming marriage to a lady they all seemed to know rather well – everything except the predicament that stood out next to us. Half an hour later all the eyes became aglow and a golden halo appeared around their heads burning with some sort of superknowledge obtained from dipping into Getafix's cauldron – rolled rice papers here. Mattocks and shovels appeared from out of nowhere and began to claw at the earth as the squished tyre slowly regained shape.