Dhanaulti: Boys Day Out in the Eco Park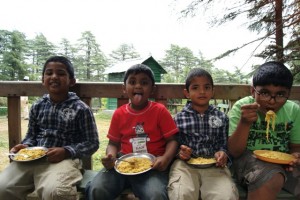 "Park…park…park."
Only one of them could read, two figured out from the familiar shape of the words and one just parodied the chorus.
"Park…park…park…" the boys screamed with a maniacal unison like frenzied rock fans in an upper-fuelled concert.
We were only 25km out of Mussoorie, on our way to Rishikesh. The only thing on our adult minds was rafting.
"Park…park…park…"
Swirly white water creating those ominously inviting whirlpools…
"Park…park…park…"
Plunging at precarious angles through spray screens with shiny, lovat boulders looming half-a-hand away…
"Park…park…park…"
Dhanaulti was early even for our mini bus driver to take his smoke break; at best a picturesque passing by. It was when my eldest nephew, eight-year-old Parashuram, read out 'park' from his window seat. We ignored him pointedly and continued our discussions on push and back strokes.
"Eco Park," Parashuram read out louder this time, with more determination, followed by the clincher, "The Peace Park."
And that was it. The boys, bickering till a moment ago became bound like brothers. Better still, like a band. Jacob (7) on percussion and drums, his brother Joseph (6), the lead guitar and Parashuram's younger brother Sidharth (5) supplying backing vocal.
We, the adults, commenced a discussion on the relative perils of the rapids of the Ganges and the Yamuna. But the band of brothers had a cause and a common enemy – the ignoring adult.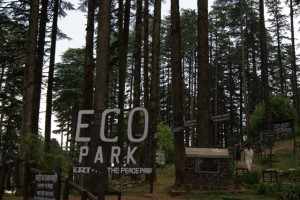 "Park…park…park…"
Just a moment before we decided not to take it any longer, the driver did. The mini bus lurched to a halt sending Sidharth sprawling over the gear shaft, bottoms up.
"Park…park…park…" Only this time one voice was a squeaky grunt.
Dhanaulti, till recent a spill-over from Mussoorie and Dehradun, today has acquired a stand-alone retreat status. A three-hour-drive from Dehradun, the densely populated capital city of Uttarakhand, and a half-hour from the equally milling Mussoorie, Dhanaulti exists with the gay abandon of the maid's quarters of a large household – has privy to all the lovely views of the Garhwal, yet has to cater to no expectations. The road from Mussoorie wavers undulating like a canvas of scraping tarmac, patch-worked in places, enveloped with jaunty white high altitude flowers. The Garhwal mountains stand stately at a distance with a serene calm even though ebony monsoon clouds seethe above them.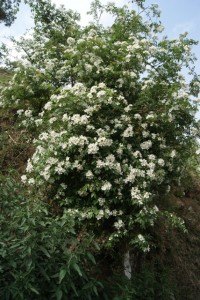 We cut through unrelenting deodars, oaks and rhododendrons and finally by the Eco Park which looks like an overgrown moraine that stood swaying happily by the side of the road watching it being built. Wide walkways were carved onto its patient side, wooden railings were planted, wand waved and lo! Eco Park!
'An eco park is a protected area that uses the natural landscape features for reducing watering and maintenance while enhancing wildlife and human values,' goes one definition. In terms of biodiversity, India is one of the richest in the world and the various eco parks have one or other wildlife preserved: you have the tiger reserves (or just 'reserves'?), the bird sanctuaries or the marine national parks. Home to the endemic and endangered species, these eco parks play a crucial role in preserving them. With not much of wildlife in sight, I decided to take my role of the 'only-uncle' to seven nephews and one niece seriously – which I do all the time except during Christmas – and enhance the 'human values' bit.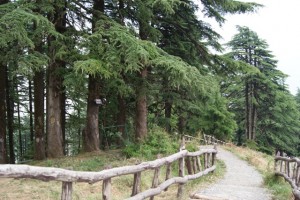 The roadside was a warren of pushcarts each holding makeshift food stalls, reeking of kerosene fumes and carrying a fuggy air about them. Each of them had their own marketing army – small boys in tattered, oversized clothes, chewing on sprigs or gums. While most are professional enough to stick to the menu on offer, the inchoate appeal to your sympathy than hunger.
"Don't these boys go to school?" Parashuram asked. Soon the question was put to me in three different ways, in three different levels of articulation, in impatient succession.
"They do," I, the only-uncle answered. "But they are so poor so they have to work during their holidays to make money and pay their school fees."
"Oh, poor boys," Parashuram said. "Let's buy from them all so that they all will have money to pay school fees."
"Sure, let's do that," I replied. I was glad to see a conscience – hopefully woken up by me – at work. Besides it also helped that we all were beginning to feel hungry.
"I will take the samosa from here and pav bhaji from there and…" Parashuram began.
"No… the samosa here has lots of flies, we will take the vada from here…" Jacob was famous for his hygiene. He once famously suggested to his mother that they do the dishes in the washing machine as 'it didn't move inside the dishwasher'.
"I need the omelette from here, the vada looks old," Joseph never gave his brother a free run.
"Ask them if they have biriyani." Hailing from Hyderabad, Sidharth was a big fan of the 'Paradise' brand of biriyani.
"But their biriyani will not have boneless chicken," Joseph never a free run to anybody.
"You idiots," Parashuram knew when to pull his seniority and higher education levels to full effect. "Can't you see what's written here? These are all snack stalls." He said pointing to a cardboard on which 'Maggi Noodles' was written.
"I don't want snacks, it's too spicy," Jacob said, eyes already burning, tears welling.
"I want snacks with boneless chicken," Sidharth said eyeing Joseph hopefully.
Now before anyone said it, I did.
"We will all have Maggi noodles." I only had the authority – and the dimensions – to get away with a decision.
"Yes, we will have Maggi noodles from the snack stall," Parashuram said and followed it with a see-my-brilliant-idea-that-went-through jig.
We climbed halfway up the eco park and sat inside an open concrete shed built like a bus-waiting shed. We were told to. Our noodles were to be served here. Inside the shed, by a corner, were stacked stained palliases – definitely the place was the billet of some of the boys from the street.
"What are these?" Parashuram asked pointing at them.
"Oh these are where those little boys sleep at night." Of course I didn't tell them this. I could already see the already torn mattresses shredded in moments.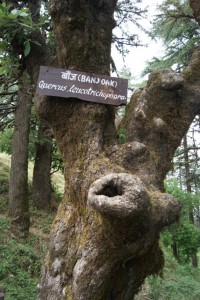 After the 'snack' noodles, the boys pranced about the park discalced – the grass was dewy cool. They sat yodelling songs from half the Indian languages sitting under umbrages that came from far above. And chased golden-winged butterflies that fluttered about casting invisible shadows on eaves of bared rock surfaces and beetling branches.
The placards on the trees were lessons by themselves. Did you know that the scientific name of the deodar is 'Cedrus deodara'? I didn't either. But it didn't matter.
I chased butterflies.
Wanderink recommends: For serious travellers children are the last thing they would want to take. Boisterous, bickering, demanding… they do come in the way in a lot many ways. However it doesn't have to be so bad as I found. They add a new dimension to the whole experience. They make you see things which you would otherwise ignore; and ignore many which you would otherwise give undue attention. Not to mention the lessons in patience – priceless!