Chakrata: Let's Wake up and Smell the Coffee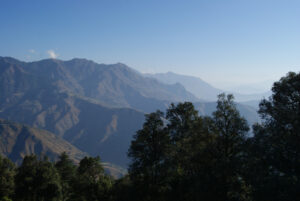 One of the many places that are under the army purview, Chakrata too has an immense, untapped potential. Thommen Jose suggests a serious re-look at the policies that have to be taken before the people leave – for better prospects at more tourist-friendly places.
Just 30 km from Chakrata, I stopped by a dhaba for a chai and struck up a conversation with the dhaba-wala. He asked me where I was headed to. "Chakrata," I told him.
"Chakrata?" He asked through squinted eyes. "Where is that?"
Chakrata is one of that 'where is that' places – you might have heard of it, might faintly remember having heard about it, definitely never spoken to anybody about it. Forget having been there.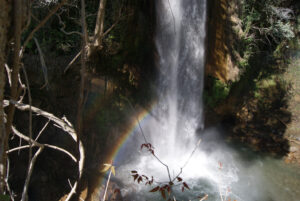 Established 130 years ago by Colonel Hume of the colonial English Army, Chakrata primarily continues to be the cantonment it always was, tourism takes a backseat. And this is not just by design – the Army had deigned it that way. A wing of the special armed forces is stationed here with new recruit training spread over the hilly terrain (the slain LTTE supremo Prabhakaran was trained here by our own army, apparently). The place is out of bounds for foreigners with restricted passage even for Indians to many places. There were even tales of some of the more adventurous ones from abroad being chased away beating a hasty retreat – through the mountain side, scraping through the pointy boulder, sliding down rock-strewn paths. Despite being an Indian, I was stopped from taking photographs of a resplendent colonial structure right in the centre of the town which was no secret lab but the army cinema hall. To get to an old cathedral in the same premise, I had to take special permission and deposit my camera at the guard gate. Still I was 'escorted' by an officer who was packing a gun! I could go on but you got the drift.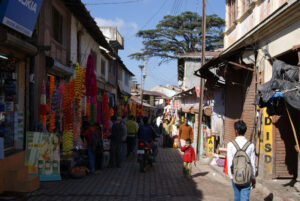 Nevertheless, this probably could be the whole charm of the place – take a stroll through the winding pathways along the deodar and rhododendron hills and it could be a few introspective hours till you come across somebody. Visit the local bazaar and you feel like you have stepped back in time, to a time when people were in no hurry and business could wait. The locals are eager to answer your queries about their culture, tradition and lives. (Though every second one is given to whining about how they do not get as many opportunities as their more tourism-friendly neighbours in nearby Mussoorie. Chakrata was earlier known as Jaunsar Bawar, a nearby village dominated by the Jaunsar tribe. Though a polygamous and polyandrous tribe, their numbers are fast dwindling.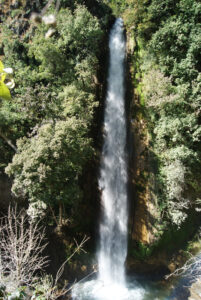 Another feature of a 'where is it' place is that you find new things to do or just find new ways of doing old things. Instead of driving to the nearby Tiger Falls, I decided to trek, charting a new route. Of course, it helped that I had a very knowledgeable local with me as guide. By road, the Tiger Falls – the second highest in India at 312 feet – is around 20 km and 5 km if you follow a straight path from the Snow View Hotel where I stayed. The frothy white water tumbling from such a height is a sight to behold. Marvel at the fuzzy rainbow that seems to be permanently affixed – you can actually reach out and touch it. Some shallow areas around the waterfalls provide for your own private pool. Avoid skinny dipping as this is a favourite picnic spot for the army families who live nearby. In fact this is the only picnic spot for the hundreds of defence personnel who live in and around the area. A visiting cousin or a friend, they are here. If not, they are still here most weekends.
As is standard with every mountain tourist destination, Chakrata too has its official 'viewing' spot – Chilmiri Neck. Stand here to get an unhindered view of the rich verdant hills lolling away into the horizon. Feel free to be humbled at the sheer grace of magnificent precision with which the Rohini and Swarga Hills and the Bandar Poonch Massif have been harmoniously interlocked as far your eyes can take you. Further down this road to Mussoorie is the Ram Tal Horticultural Garden, better taken for the scenic drive. Chakrata itself is on the Yamuna Valley overlooking the Himalayan range and you can reach it from Dehra Dun through either Mussoorie or Kalsi. I suggest you make it through Mussoorie as the Kalsi approach is quite back-breaking besides there is a very stern army check post here where how much Indian you are, you still have to cough up some Hindi smatterings to be let through. I had this niggling thought that they were actually laughing at mine as I drove through, smug.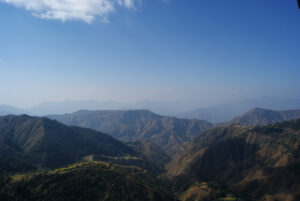 Another reason to take the Mussoorie road is the Kempty Falls – falling from a height of 5000 feet and further cascading in five different heights, making it look like one gigantic frothy pallu in the wind. The origin of the name 'Kempty' is quite interesting: the falls was developed by another British officer (of course) John Mekinan as a place where they could have 'camp tea' with fellow officers and families. From Kempty you pass the Aglar river before you drive over the gushy Yamuna.
Only if you are in a four-wheel-drive I suggest you take the 12 km drive up to Deoban. Sitting pretty at 9,500 feet above Chakrata towards the north, the view of the Greater Himalayan Range from here will astound you. However, be prepared to ram on the brakes as the army trucks and jeeps come scuttling down these narrow lanes – yes, you are on their property and they have the right of way. Catch the sunrise from here and give your soul its Kodak moment. At Deoban, the Forest Reserve House can take you in but be prepared for just the basic amenities which do not include electricity or running water. As I was leaving the next morning, one middle-aged lady, working with a leading television channel checked in.
"What is that?" I asked her pointing to a strange package she was carrying.
"It's a hammock," she replied.
If you want to roam or just let your mind do it for you, Chakrata is the place to be.