Capital Burps: 'Dilli Ke Pakwaan' Street Food Festival
I have always been partial to potatoes. Yes, the humble aloo did Mc itself. But that's not the reason. You find it mashed and stuffed in parathas, sprightly cut and sprinkled on paapri chaats, baked or fried in samosas. Give it to me in any format, I won't even bother chewing. And potatoes being the staple of many street foods in India, 'Dilli Ke Pakwaan' the street food festival in the capital had me running amok like a famished monkey in a banana plantation. Well, Delhi Belly would only be a small price to pay for paradise.
As in anywhere else in the world in India too street food is a culture unto itself. The fare is a crash course in history, throws light on the culture, the stratification of society and how different families – and communities, eventually – came to be associated with different preparations and tastes. With our histories of rampant migration, it also reflects the amalgamation as well as adaptation of tastes. The paav bhaji might have been tailor-made for the mill workers of Mumbai originally – nourishing enough for hard labour and consumed quickly during short lunch breaks – but it is as popular in Chandni Chowk as it is in Chowpatty. The distinctly Persian kebab was all about meat – recorded by Ibn Battuta as served in the royal households of Delhi sultanate when he passed through. Its vegetarian avatar is one big reason BBQ Nation has been able to skewer a hugely successful restaurant chain on the concept.
The Paranthe Wali Gali is at the core of the street food scene in Delhi. But there are rats. One morning, many winters ago, we stood patiently waiting outside the iconic Karim's for space. A furry little one, glistening wet scrambled over the feet of somebody in the group sending a resonating scream that bounced off the domes of the Jama Masjid nearby. It might have helped to get us seats faster but then it also deterred our future forays into the gastronomic gali. The happy news is that 'Dilli Ke Pakwaan' is Paranthe Wali Gali transposed to a more, er, non-ratty environ.
The annual week-long burp-fest is organised on the emporium hub on Baba Kharak Singh Marg near Connaught Place. First held in 2011 to mark 100 years of Delhi, it was originally decided to invite vendors who had been around for a century or more. The last editions were held from December 24th to 30th, this year it was pushed due to protests that raged the capital over the barbaric rape and murder of a young woman. Section 144 was clamped down on the area as the adjacent Jantar Mantar and India Gate were the primary protest venues. Undue rains lashed Delhi for close to a week, the parliament sounded sincere in its legislative efforts to curb heinous crimes. It was time to move on. Of course, I walked into the festival ground first day itself. A little embarrassing considering they were only putting up the welcome board. 'Enjoy street food. Fresh, clean and healthy' read the signage signed by the 'National Association of Street Vendors of India' Delhi circle, in case you were wondering. However most of the stalls were up already; being lunchtime office people from nearby were trickling in, business would peak by dinner. Since I wanted to distribute my bowel space as widely as possible, I decided to begin with a recce and if at all possible vet my menu to stuff I had never tried – almost impossible – or hadn't tried in a long time – not at all possible. I didn't go much beyond the first stall that sold aloo tikkis – the aroma that wafted from the sizzling tawa arrested me on my tracks. To hell with recce. Menus are best un-vetted. And bowel walls are elastic.
"Bhaiya, one plate tikki please."
The request went into a loop.
Now, here I must make a confession. I am partial to potatoes, true. Then, I have a thing for bread too. (Though I was the only son among five kids, this was the one thing my mom loved most about me when I was a kid – she could feed me bread for breakfast, lunch and dinner. And I would still go out to buy bread the next day.) So, when I saw those gigantic loafs in the next stall, more than childhood memories, I just went weak in the knees. Bread pakoras are christening of the western bread to the Indian way of life. So you have bread pakoras that are breads (not to be mistaken with the Indian bread – rotis or parathas) stuffed with potato or paneer, onion or cabbage or any other vegetable, coated in batter and fried. Heaven is bread pakoras with steaming chai on a rainy day. Close second is having it on a winter afternoon. Or whenever you see gigantic loafs. Do I need tell you that by now I found the whole act of moving – forget walking – as possible at it was for the Queen to parachute with Daniel Craig on Olympics opening? Then she did it, didn't she! Well, what I meant was the matka lassi was beckoning me from a distance. Made from yoghurt, blended with spices and usually sweet, these refreshing drinks served in mud glasses are a relish. It wasn't hard for me to convince myself that the winter sun was harsh and I needed two. The nearby paan shop conjured up a mean topper – mostly meetha (sweet) paan, with a sprinkling of fruit preserves, rose petals and different spices. Chewing paan may have its adverse health effects, but it aids digestion as well. Although I wasn't sure if I was still within help. Re-creating a much-loved and missed ambience was another thing that I loved about the festival. During my road trips, just the sight of charpoys outside dhabas is good enough to give me more pleasure than probably walking into a harem. Towards one end of the ground, there were some welcoming charpoys and I staggered in the direction like seeing a long-lost love. I looked around to see if there was anybody I could ask to wake me for dinner. That would be when Karim's and Khan Chacha – the gospel spots for a Delhi foodie – would be serving up sizzling and skewered delights. When there would be momos (the famous dumplings from northeast India) and Mexican, chaats (another popular appetiser or snacks like tikkis) and Chinese. Classical recitals and dance performances by local and visiting artists were added attractions.
It might still be an up and coming food festival, but Dilli Ke Pakwaan surely knew how to whip up an appetite.
This year's festival instalment – actually that of last year – is on Baba Kharak Singh Marg near Connaught Place, New Delhi, till February 15th.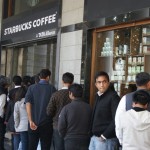 An aside: While the festival ground was bustling with international tourists, Indians preferred to queue up outside the recently opened Starbucks next door.

The frizzling aloo tikkis lay like golden islands in a shallow sea of applauding oil. Gol gappas were stacked in a brocade of delectable disarray, pomegranate seeds lazed about in the savoury water that would be filling them up soon. The diced tomatoes lent a fiery red to the simmering paav bhaji gravy made of mashed potatoes and fringed by molten butter cubes and chickpeas. Freshly fried jalebis were a sugary orange, dripping syrup, waiting to be bedecked by powdered pistachio and almond.