Behind the boom barrier: What you never knew about toll plazas
Bet you never knew Mr Robert Vadra is not exempt from paying toll. Am kidding, sure you knew.
Then, did you really? Know that the Gandhi in-law – unlike in airports in the country – was not on the 'exempted' list of highway toll plazas?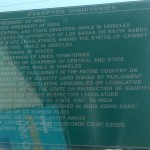 I went through the entire list of 13 'exempted dignitaries' to figure if I could bluff in anywhere; chances were kind of bleak that I could pass for anybody on the list from the President to high court judges for I was in a red sleeveless banyan. Pat Monahan's Mermaid seemed to lunge out from even Red's underbelly. The mighty toll fee of eighty five rupees would be the first burn on my limited road trip resources.
"Return?" The sprightly lad manning the booth asked taking the hundred rupee note I held out.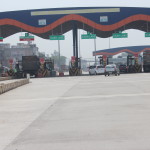 "What does it look like?" I snapped. To and fro journey within 24 hours was Rs 125 as per the user fee board. It wasn't really him even but that little pre-programmed chip in his brain with a free voice access. And I had always been nice to this senseless query across all toll plazas.
A burly chap who was watching the exchange from the other side of the boom barrier – the kind that are put at toll plazas to make you not think too hard while parting with considerable sums for taking inconsiderate roads – came towards me. Some hands-on experience for a bouncer interview?
"I mean, just one way…pal." I corrected to the surprise of the guy with the chip-in-brain-with-free-voice-access. The burly guy was near my window. He grinned. Must be a sadist, I decided. Nice before the pounce.
"Sir," he could vie for Mr Polite at next Gladrags – the akhara edition – contest. "Can you please drop my boss at the next toll plaza?"
"Sure." Whatever it took to save Red.
"And you don't have to pay toll here." He said. I couldn't believe my luck.
"Oh is alright, I can still drop your boss." I didn't say that.
"You don't have to pay at the next toll either." He said. I began to gravely suspect the capabilities of my cochlear.
"Thank you…thank you." I couldn't stop the gush.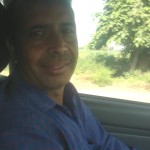 I piped down Pat, wound up the windows and switched on air conditioning. It was story time. I have actually wondered about the folk behind the boom barriers – their monotonous job, the unchanging robotic actions, attempted robberies, being challenged by every other neta and his beta, the works.
Sukhbir Singh, the cashier at the toll plaza, retired from the Indian Army after a short service stint with the Jat Regiment.
"I am in charge of the safety of the Rs 20-odd lakh we collect at the plaza every day." He said by way of job profile.
"What happens if the money gets stolen under your watch?" I couldn't resist.
"I wouldn't know for I would be dead for it to be stolen when I am on duty." Man, I love the army, even short term ones. Thanks to my mom I am not in uniform: she claims to have saved my ass – maybe not in the same way – by dissuading me from joining the forces and the clergy.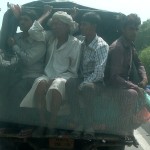 The toll road – a stretch of over 100km of the National Highway 2 from New Delhi to Agra – was managed by Reliance Infrastructure. An increasing number of commuters were opting for the far superior Yamuna Expressway even if they had to pay a higher toll. Reliance had no other go but to better and widen the existing road for which they needed more money. For this they wanted to increase the toll but the authorities weren't budging. Things had reached an impasse; the road was in a bad state. Travel was impeded. There was enough time for some flashback.
"Tell me about your days in the army." I asked. "Have you seen any action?"
"My regiment was at the Third Glacier during Kargil War." But Singh was not at the warfront due to the nature of his duties.
"Have you seen 'Jab Tak Hain Jaan'? Are army personnel – even those recruited from fish mongers – really so brave?"
"I haven't seen the movie. But I don't have to see movies to tell you that the army are a brave lot." I hadn't struck any raw nerve but Singh was being very matter-of-fact.
"What do you think of AK Antony?" Just one illustrious Keralan about another. "Don't you think we need a well, stronger defence minister?" Yes, just.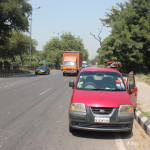 "It's very easy to go to war with another country but we have to remember that any war will only serve to set a country back by several decades." An angle which had honestly never occurred to me before. For me war was quite handy in resolving a lot of issues and to show who was the boss. Especially if we stick to our guns that those flying objects were not Venus and Jupiter but spy drones.
But this was a new take. I sat there, agape. A tad embarrassed, to be honest.
"In that sense AK Antony is a good defence minister." Singh said with conviction, a kind of finality ringing in his voice.
"He is also from Kerala like me, you know." My red banyan swelled at the chest.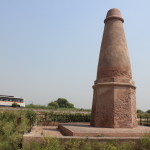 Between my plying him with questions, Singh even managed to doze off. Maybe he dreamt of never bumming a ride in a private vehicle again. His eyes lit up with genuine interest when he told me about the Kos Minars – elaborate milestones laid out by the Mughal rulers. He was refreshingly frank in admitting that he joined the Army as it was the only way he could get 'set in life'. The only holiday he ever took was to Tiruchirappalli in Tamil Nadu and he still fondly remembers how much his wife loved the temples. He dreamt to make his two kids civil engineers who would build highways one day. They would also be rich and drive swanky cars.
But he kept a studied silence when I asked him why exempt the 13 set of 'dignitaries' from paying, if he thought the preferential treatment was fair. Surely they had more money than most of us. He also didn't tell me under which of the heads I would be listed when I was allowed to pass on without paying.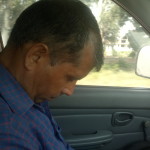 I think there must be a no. 14 that doesn't find public mention: Suckers like me who painstakingly scan the entire list for that one name which doesn't come with an official ID – Mr Robert Vadra.