A celebration of location
A review of Lonely Planet's 'Filmi Escapes: Travel with the movies'
Leading Hotels of the World, a luxury hospitality consortium, has listed a 'Midnight in Paris' package; those who can't afford the Panoramic Suite which was featured in the Woody Allen movie take pictures of the prestigious Hotel Le Bristol Paris. The New Zealand government gave the producers of 'The Lord of the Rings' an unprecedented incentive of US$ 150 million. After the critical acclaim of the 2008 drama 'In Bruges' the Belgium town decided to revolve its marketing around the movie and put up a movie map supplemented with guided walking tours. Closer home, an entire campaign – 'Land of Pi' – was launched by Incredible India spurred by the international success of Ang Lee's fantastical opus 'Life of Pi'.
While Hindi movies are yet to be immortalised with eponymous star hospitality packages, inspire phenomenal financial aids or script whole tourism communication strategies, they have opened up nearly every picturesque corner and cranny of the country in all its craggy glory and verdurous sheen, riverine splendour or heritage appeal. They have brought us closer to the majesty of the geography, the vastness in diversity and historical richness that abounds all around us. The celluloid phantasmagoria instilled in us a desire that went beyond the mere need to travel – which was anyway undertaken fairly regularly with familial or social compulsions – a desire to see places through a new, well, lens. Though we may stop just short of jumping into the water, it's still hard to resist a Shammi-shimmy while on a shikara on the Dal Lake or squall out 'Yeh chand sa roshan chehra..' Almost everybody I know who has been to Ramnagara has made a video where they are strutting atop a boulder and menacingly mouthing 'Kitne aadmi the.' Even if the Pangong Tso has that mesmerising quality which makes you forget you have a long ride back to Manali and that you are by the touchy Sino-Indian border '3 Idiots' will still make you squirm foolish. I once witnessed a heated exchange between two mature bikers (I underestimated them) on the exact places where the movie cast stood during the climax scene; an unreal exchange by the serene, cerulean lake. For a movie-mad nation like ours, Lonely Planet India's 'Filmi Escapes' promises more madness.
This travel guide with a filmy twist is nothing short of a bible for both the travel and film buff; mostly overlapping each other as Lonely Planet's research prior to the book commissioning showed – 60 per cent of all travellers are avid moviegoers. Iconic scenes are lived again in the locations where they were filmed, sprinkled with some very interesting, informative and sometimes poignant titbits thrown in for good measure: Shammi Kapoor's ashes were immersed in the Dal Lake in memory of his love for the lake and the state. Author Juhi Saklani has undertaken a humungous amount of research: sifting through locations of hundreds of movies from the 60s till the mid of last year, memorable scenes and outstanding dialogues have all been nattily woven into this atypical guidebook. Her love for the subject and flair for the craft resonates often with a spunky irreverence which adds to reading pleasure. This book is lifesaver if you are a travel guide (the two-legged variety) and a gem for those who are just looking for that little extra masala in a new destination.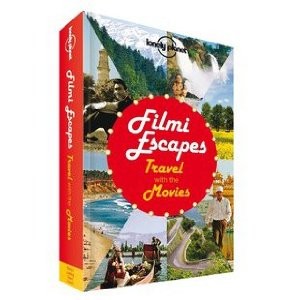 Why go (for it)
You don't have to see Imtiaz Ali's Rockstar to be enraptured by the famous qawwali at the Nizamuddin Dargah in Delhi. Then, did you know that the qawwals in the movie are the real ones? Though Delhi-6 was set in Old Delhi, large chunks of the movie were shot in Jaipur… 'Filmi Escapes' is also a treasure trove of instances of filmmakers 'cheating' due to logistical issues or catering to sheer whimsicality of stars. Another plus are the interviews with directors known for their metier in weaving in locations as character like Santosh Sivan, Muzaffar Ali, Dibakar Banerjee and Karan Johar.
Quick Facts
This is a flavoursome cocktail of fiction and destination, dance and real life drama. Just as every tapori rises up – every time – to a seemingly impossible challenge, 'Filmi Escapes' is a true-blue Lonely Planet guidebook too. So what you get is not just the filmy side of hotspots on the tourism map but also The Book's regular recommendations of accommodations, hotels and travel tips.
Highlights
Information that lends new perspective not just to locations but to movies themselves: Some of the complicated Kathak movements in the song 'Pyar kiya to darna kya' in 'Mughal-e-Azam' were performed by choreographer Lacchu Maharaj wearing a Madhubala mask.
Kya dialogue hai
The guidebook pages are literally fringed with dialogue bubbles that erupt with verve spewing some of the finest words ever uttered by a character in Indian cinema. Unfortunately there is no translation which left me gawking sometimes especially after the lengthier ones – like where Amitabh Bachchan, the narrator, describes the nobles besotted by chess in 'Shatranj Ke Khiladi'. Yeah, I know they don't air Hindi movies in India with English subtitles but why don't they!
Did you know?
While the book definitely covers most of the traditionally sought-after tourist destinations/shooting locations in the country, it is by no means a comprehensive handbook cum directory for the location manager. Plenty of reasons are bandied about on why Shimla or Goa fires the filmmaker's imagination; a close perusal can even throw up insights on the kind of scenes that can be brought to an extraordinary life in a bustling hub like Connaught Place or in the aridness of Ladakh. It also throws up a few tinglers: Why is the history-rich Bundelkhand region neglected by our filmmakers? Save for a cool drink ad, Orchha (which means 'hidden treasure') was never on celluloid. What would it take for mainstream film directors to shoot in the pristine North East? What is the role of marketing by state tourism bodies here? Is insurgency the reason there are no shoots in Chhattisgarh and Jharkhand? And these are some of the most virgin territories in the country.
Then, these by no means fall under the purview of 'Filmi Escapes' which is a celebration – and not a weighty introspection – of location.
(All the images are from Lonely Planet India website and Google.)